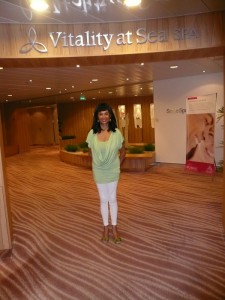 A cruise vacation has a lot to offer! Among its array of onboard amenities which include fine dining, musical productions, and fitness center, is the luxury day spa. Cruise lines seem to be enlarging their spa facilities, adding offerings like acupuncture, Restylane and teeth whitening. Kids ages 13 to 17 can participate in the teen program and book treatments such as "surfer scrub" and "acne attack facial." More standard treatments like hair styling, massages, manicures, and pedicures are also available for teens.
On a recent Royal Caribbean Cruise vacation, I experienced a variety of pampering treatments at Allure of the Seas Vitality Day Spa. There are so many onboard spa treatments to choose from that the decision-making process is not easy. Here is the inside scoop of absolute "must trys" at Allure of the Seas Vitality Day Spa that are favorites among cruise guests:
Elemis Oxydermy Facial
This facial softens blemishes while fighting lines, wrinkles, and spots, using new cutting-edge technology that brings microdermabrasion and oxygen together in one luxurious treatment. The Elemis Oxydermy Facial cleanses, polishes, and massages the skin, resulting in a radiant glow.
Elemis Aroma Stone Therapy
As you relax on a soft linen lined massage table, heated stones soothe tired muscles on your back and arms, melting away tension. Therapeutic heat is slowly released into the muscle with small stones placed on key energy points while luxuriously warmed oils are massaged deeply into the body for relaxation and to balance the spirit.
Ionithermie Cellulite Reduction Program
Body tune up therapies have become popular on cruise lines. The Ionithermie Cellulite Reduction Program offered on Allure of the Seas is a unique therapy that is designed to detoxify the body, reduce the appearance of cellulite and cause inch loss. Galvanic stimuli propel rich marine elements into affected areas to drain fluid that cause a puckered appearance. This program is recommended as part of an ongoing well-being fitness plan.
Medi-Spa Services
All luxury cruise lines offer medi-spa services including Restylane, Botox®, Dysport®, and Perlane, FDA approved non-surgical treatments that help to restore youthful radiance by softening fine lines and wrinkles. These treatments are administered by onboard medi-spa physicians that are licensed medical doctors. Acupuncture is also available.
Beauty Service
Hair care, make-up application, manicures, pedicures, and teeth whitening are beauty services that are offered onboard. I selected a spa package that included a shampoo/ blowout, Phyto conditioning hair treatment and skin specific facial.
Beauty expert Nickesha ensured that my Vitality Spa experience was a memorable one! She started out by analyzing my skin and hair. Next, I received a Phyto scalp treatment and massage with nectar oil which was also applied to my hair ends. The treatment was left on for 10 minutes, and then my hair was cleansed with a moisturizing shampoo. Finally, Phyto Mask Jojoba was applied for conditioning and my hair was wrapped with plastic and a turban.
While the hair conditioning treatment did its job, I was led into a private room, where Nickesha administered my facial. After cleansing my face and neck she applied Elemis resurfacing serum to these areas and eye serum around the eye area. After 10 minutes the treatment was removed with a warm cloth and Marine day cream was applied.
I was led back to the hair salon where my Phyto treatment was rinsed out and a protein moisturizing cream was applied prior to the blowout. The end results were amazing! I walked out of Vitality Spa with shiny, bouncing hair and skin that felt like silk.
There is really nothing quite like being pampered at sea. It redefines the meaning of true bliss.