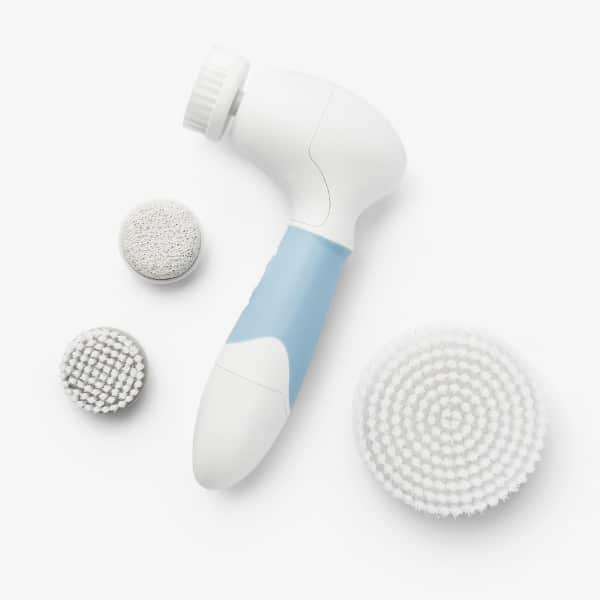 Sometimes washing your face with just your hands is not enough, because your fingers can't reach the dirt that's deep inside of your pores. And if you use those "deep clean" facial cleansers, they don't effectively clean your skin. Even with the oil cleansing method you have to massage the oil in, but your fingers can only take the oil so deep. But there is a way to give your skin the cleanse it deserves. Vanity Planet has a spin brush called Spin for Perfect Skin.
Perks of the Spin for Perfect Skin:
-Your skin is cleaned more effectively
-Your skin gets a deeper clean
-It cleanses and exfoliates
-Removes bacteria and dead skin
-Promotes visibly clearer skin
-Reduces pore size
-Makes skin smoother and brighter while adding radiance
-It is suitable for all skin types
The Spin for Perfect Skin comes with:

-battery powered single speed Spin for Perfect Skin
-a cleansing facial brush
-an exfoliating facial brush
-a body brush
-a pumice stone
How to Use the Spin for Perfect Skin:
Make sure to remove makeup before using spin brush to avoid staining the bristles. Then wet your skin.
Apply your cleanser either to your face or to the brush. If you are partial to cleansing with oil, apply the oil to your face and instead of massaging it in with your fingers, use the spin brush instead.
Place the brush against your skin and gently glide the brush in circular motions. Be careful not to put too much pressure to avoid damaging the skin.
Switch brushes according to the area you are focusing on. It's ideal to use the cleansing brush first, and then the exfoliating brush for cleaner skin. The body brush can be used on the rest of your body. And the pumice stone should be used for pedicures.
Rinse the brush heads with soap after each use. You should replace the brushes used every 3 months.
The use of Spin for Perfect Skin will make your skin feel like it's been washed for the first time ever. It'll make you wonder how you have lived all this time only washing your face with your hands. It would be the best addition to your skincare routine. I highly recommend it.
–Kadisha Kentish