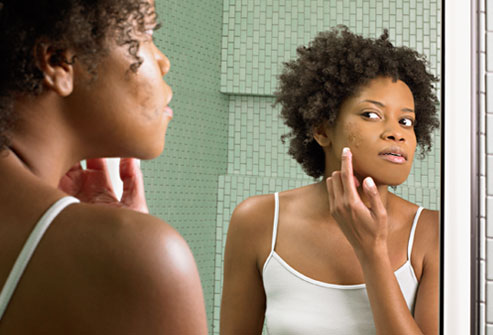 I can thank my father for my dry and sensitive, overreacting skin. Even now that I'm well into adulthood I'm learning that caring for your skin is a journey. Just when you think you have a regimen down, a curve ball is thrown your way. For many reasons our skin goes through changes; the weather, diet, hair products, stress, or simply because you've been using one product too long and it isn't working anymore. Sometimes we have to go one step further, so here are a few things that I do to keep the bacteria away.

1. For starters, keeping your bed linens clean and changing the pillowcase several times weekly is crucial. Also keeping the kids, husband, and anything else off of your pillow is important. Bodily fluids transfer very easily.
2. This might be difficult, but keep those makeup brushes clean. If you don't have time to wash them, then there are many cleaning sprays out there you can purchase to give them a spritz. Recently I have been loving wiping my brushes on a tea tree facial cleansing wipe when I'm done applying my makeup. That way they are dry by the next day, and with the benefits of tea tree I'm killing any bacteria.
3. If you're one that uses a pencil sharpener for eye liners or lip liners, cleaning those as well will eliminate day-to-day transfers of bacteria.
4. Lastly, if you're using a brush cleansing device for your facial routine, then sanitizing that brush head is just as important. Although these devices can be beneficial in getting a deep clean, getting rid of dark spots, and exfoliating, lack of maintenance on the brush heads defeats their cleansing purpose.

All of these may seem like common sense, but sometimes we get so busy in our daily lives that we slack on our sanitizing. Mixing things up and creating solutions to fit your schedule not only eliminates  break outs, but it also reduces your morning/night routine, and saves money.
by Rosalyn Robinson