Makeup is a language that all women understand, whether they are the type to wear it on a daily basis or save it for special occasions. No matter what kind of makeup junkie you are, around the holidays it is good to have a few good tips and tricks on eye makeup in your pocket. Because let's face it, it's all about the eyes.
Eyes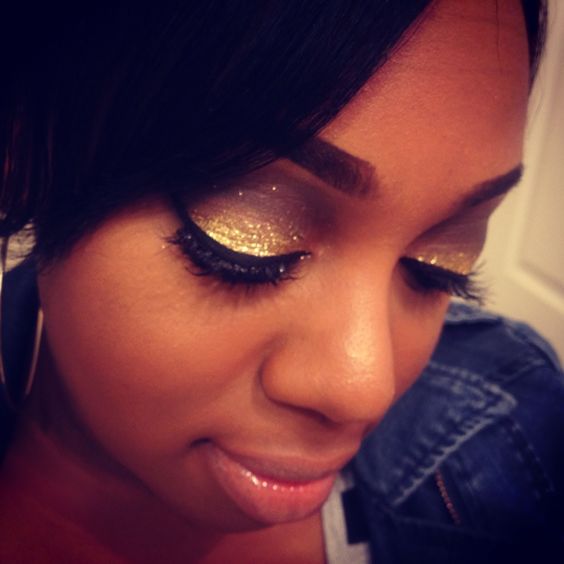 Tips:
-When dealing with eyeshadow, it is best to place the lighter colors first, then move to darker ones. Lighter colors should be applied to the inner corners of your eyes, the middle of the eyelid and just under your eyebrow bone.
-Here's a holiday twist on the smokey eye look. Apply your eyeliner and mascara as desired. Smudge a brown shadow (if you want a darker look, you can use the same black you would on a regular smokey eye look) on your eyelid and underneath your bottom lashes. Then add in the holiday shimmer of your choice, whether it be a plain glitter or a bronze shimmery shadow, the color is up to you.
-Want to stick to your simple eyeliner look? Simply switch your black eyeliner out for a more festive color like a blue, plum or even white eyeliner and you'll instantly look different.
-For a wintery look, use a silver eyeliner on the top of your eyelid. You can even do the cat-eye look if that's what you're used to.
Tricks:
-To make your eyeshadow pop, first apply white eyeliner to your lids, then apply the color of your choosing and it'll be brighter than ever. Holiday eyeshadow colors include: shades of blue, red, pink, green and anything that glitters (including bronze tones).
-To disguise under eye bags, highlight the actual crease and use a darker shade of foundation to the puffy area.
-To avoid the running of your eyeliner, sweep a bit of loose or pressed powder underneath the eyeliner of your bottom lid.
-For the illusion of a bigger eye, use a nude or white eyeliner instead of black.
Brows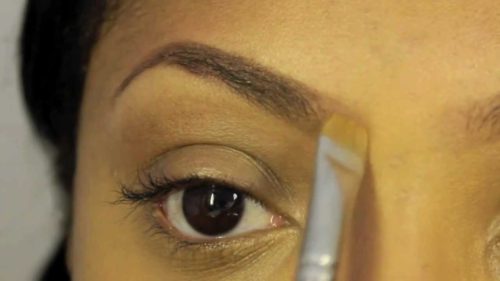 Tips:
-Even if you are blessed with eyebrows that don't require shading in, shading in your eyebrows can put the finishing touch on your look.
-Always make sure your eyebrows are done. Clean eyebrows accentuate your look.
Tricks:
-To lift your eyes, sweep a pink matte pencil along the length of your brow bone to create the illusion of a higher arch. Make sure to blend it well.
-Another way to lift your eyes is to draw an arch above your brow using your favorite highlighter
Lashes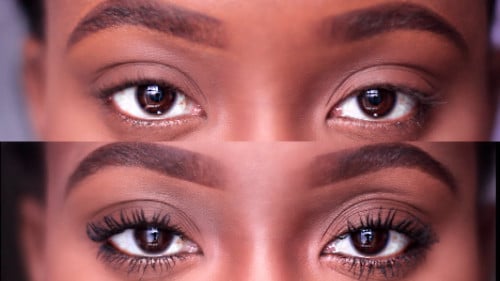 Tips
-To get that fake eyelash look with only mascara, first apply a thin layer of powder (could be baby powder or a blush) to the top side and bottom of your lashes with a makeup brush. Then apply two coats of your mascara to the bottom and top side of your lashes. Wait 3-5 minutes between coats to avoid clumpiness. While applying your mascara, move the brush from left to right as you move it from the base of your lash to the tip. When you're done, be sure to check for gaps. And to finish off the look, make your lashes appear thicker at the base by pushing eyeliner between your lashes.
-If you want to make your lashes sparkle, use a brush and add a thin layer of glitter to the top side of your lashes.
Tricks
-To avoid getting mascara on your skin, place a plastic spoon to cover your skin as you use your mascara.
– Don't pump your mascara because that allows air into the tube and dries it out faster. Eye drops can help de-clump your mascara that hasn't outlived it's time. Mascara should be replaced every three to four months.
By Kadisha Kentish
For additional eyelash tips and tricks:
mellypatrice https://youtu.be/-Myxf1oqveU?list=UUkvmNBOjheN8t0pml7kTUsA
MissyLyn https://youtu.be/7JuzMUp63Qc
Jasmine Rose https://youtu.be/G3e_R0XmNVM