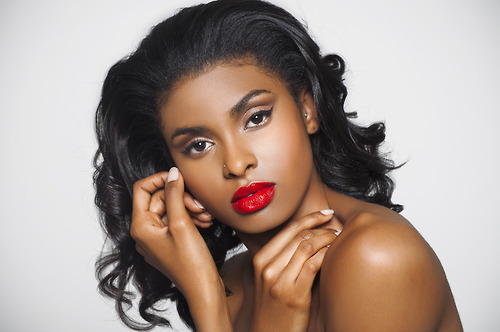 Although Valentine's Day has come and gone, it doesn't mean you can't ensure that your lips are kiss-ready on your next special date night out with your sweetie. Here's some tips on how to obtain that perfectly kissable pout:

1. First, exfoliate the lips to get rid of any dead skin. This sets the foundation for anything we put on to go smoothly and last all night.
2. Next, moisturize. After exfoliating, applying moisture prevents creasing and crackling of whatever lip product you apply. This can be applied prior to makeup application. When it's time to apply lipstick, blot or gently wipe lips and your lipstick will glide on with ease.
3. Next prime your lips to make sure lipstick stays where you put it. This can be done by dusting the lips with a powder of your choice, filling in your entire lips with a lip liner that matches your lip color, or using an actual lip primer.
4. Lastly, pick your favorite lipstick and apply to your liking. Make sure to blot, and then reapply a layer of color. If your lips need a little cleaning, use a little concealer to clean up.

No matter what color is your favorite, taking precautions to prevent lipstick from bleeding and going around the mouth is essential. You want to keep lips soft, moisturized, and kissable all night.
by Rosalyn Robinson