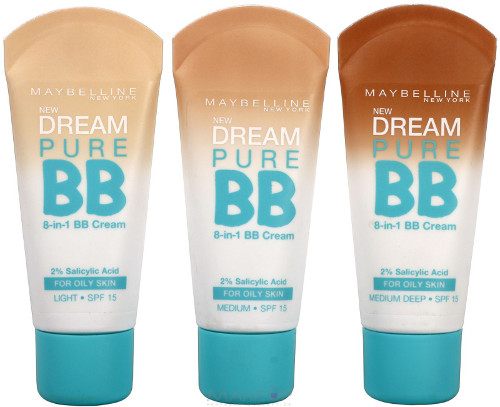 It doesn't come as a surprise that the product junkie in me had to try out the new Maybelline Dream Pure BB 8-in-1 Beauty Balm. I was super excited to try and compare it to the original Maybelline BB Cream. It couldn't have come at a more perfect time during these hot summer months, and with the main ingredient being salicylic acid, a natural plant ingredient that exfoliates the skin, helps to combat acne, and keeps shine at bay. Its summer time and if I can get coverage, while maintaining oil control and preventing breakouts this is a no brainer right?
Well…just as with the original I purchased Dream Pure BB in the shade deep, their deepest shade, and the color was a little off for me. The consistency is a little thicker, assuming it's due to the salicylic acid. The one thing I was looking forward to was keeping the oil at bay, and it really didn't. I wore it with a setting powder, even tried two different primers, and setting spray. Needless to say, I was disappointed when I looked up at lunch time and needed a retouch. Another major con is it doesn't contain an SPF of 30 like the original does. I applied this using a sponge and brush and I would say for blendability I rate it a 7 out of 10.
All in all it's a great idea and can be a great dupe for some of the higher end brands that have started putting skincare ingredients in their products. As with all products I'm going to continue to experiment. Sometimes hormones, stress, and timing isn't right. I will come back to you at  the end of summer and let you know how it's working out.
by Rosalyn Robinson