By Jade Solomon
Ayana George is a talented vocalist and Bronx native who is making her Broadway debut at the golden age of fifty. George stars as Katherine Jackson, the mother of the King of Pop, in MJ: The Musical. And has also graced stages worldwide as a background vocalist for the likes of legendary talents such as John Legend, Jazmine Sullivan, Chaka Khan, Donnie McClurkin, and so many more!
Read as Ayana George shares how she was able to overcome fear and stand firmly in the spotlight, how she has been able to step into the role of Katherine Jackson, why she feels everyone should rush to see MJ: The Musical, and so much more!
First and foremost, I wanted to start off by saying congratulations because it has been announced that, in 2023, MJ: The Musical will be embarking on a national tour – hitting 17 major cities across the country. I wanted to start off by asking how it feels to be a Bronx native finally hitting the Broadway stage but now, how does it feel to also know that you'll be gracing stages all over the country with this musical?
Thank you! The tour is actually supposed to have an all new cast. I'm probably still going to be on the Broadway stage, but I'm not sure if I'll be on the actual tour. But to actually be doing Broadway, coming from the Bronx, is a dream come true. My mom and my dad really loved going to Broadway shows and they would come home with the Playbills and I would read them, and I didn't know who those people were but I just knew that I wanted my name to be in one of those Playbills.
Specifically, when they went to see Dreamgirls, I saw Sheryl Lee Ralph, Jennifer Holiday and Vonetta McGee – all of these beautiful, brown women and I wanted to be just like them. So to actually be on the Broadway stage now at my age, and after all that I've experienced, is a dream come true. It's surreal. I'm literally in awe every day.
You are a firm believer that "music heals" and music has been the driving force, the driving salvation in your story. Can you tell us more about your childhood, and the trauma that music saved you from?
I did grow up in a pretty tumultuous household and I saw violence in my home before I ever saw it outside. For me, music was my escape; being able to go in my room and listen to music and sing songs – and at that point I didn't even know that I could sing, I just knew that I could mimic what I heard on the radio – it was my escape. It was a way for me to get away from everything that was happening around me and have time with myself, and with God.
The pain from that trauma used to serve as the fuel to your engine. But it also led you to build a "personal prison" around you, as a means of protection. How were you able to shed that "personal prison" and come out on the other side, to live a more "free and limitless life"?
The thing about creating that personal prison is that you keep a lot inside but you also avoid things getting out. I knew that there was something in me that needed to come out and needed to be shared. And in order for me to do that, I had to break free – from the constraints that I put on myself, and also the ones that I allowed others to put on me.
I literally, at one point in my life, was wearing what other people had to say about me like a garment and it was how I showed up in the world. And I got to the point where I was like 'no more. I'm going to shed this and I'm going to break free and be who it is that I'm supposed to be.' I let those forces, and that negativity breed fear inside of me. And a lot of my decisions were dictated by fear – all the time knowing that I had something special to offer and I wanted to offer it, but I was afraid for so many different reasons.
I call 2017 my leap year because it's the year that I decided to go toward the things that scared me instead of running away from them. I didn't care about people's opinions, or the limits that society puts on us – I was forty five years old at the time, the opposite of today's accepted beauty standard, and in that season I decided that it doesn't matter what anybody has to say about me. What matters is what God has said about me. He has told me that I am specially and wonderfully made… and I became more open to seeing myself as God saw me. So once I got free of that fear, I decided that I wasn't going to live my life refrained anymore… I am free-er now than I have ever been in my entire life and music was a big part of that.
You attended the LaGuardia High School of Music & Art and Performing Arts. You have a wide vocal range, encompassing many genres. You've been a supporting vocalist for so many of the greatest artists – so we know that your skills are indeed extraordinary. But how has stepping into the Broadway musical arena tested, challenged, or even improved your skills as a vocalist?
The preparation process for this show in particular was a bit different from what I'm accustomed to, but I will say that the work that I've done prior to this has prepared me for this. For instance, working with John [Legend], there's a lot of choreo which happens in his shows. So that prepared me for Broadway because prior to that I was used to just standing and singing, or rocking side to side, so that definitely helped a lot.
The rehearsal schedule for Broadway was a lot more demanding, and of course the acting and other requirements for the role were new – I have to admit, I even experienced a bit of imposter syndrome going into the role because I felt like everything was so new and different that I questioned if I really belonged there. But God let me know that I was right where I belonged, and as the process went on it just solidified it more and more.
Also, being able to work with the people that I'm working with has been super helpful as well – a lot of them have experience in musical theater so I gleaned from them and took a couple of their strategies that they use to prepare, and implemented it into my own preparation process.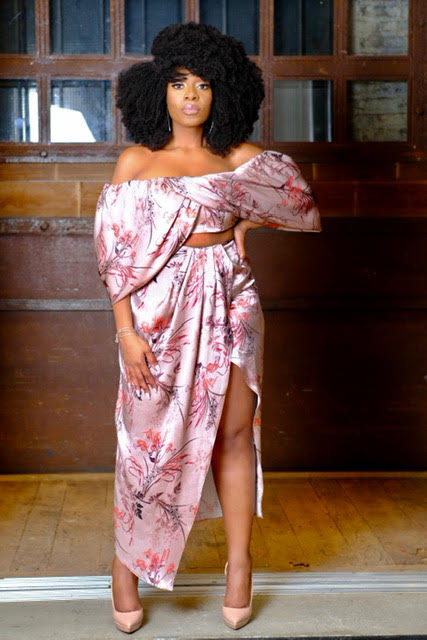 So of course with stepping into the Broadway arena comes the challenge of stepping into the art of acting. How was your transition into that skill set?
It's been a beautiful transition and something that I've wanted to do for a very long time. I'm a mother, so playing the role of Katherine Jackson made it easy for me to take on that portrayal by tapping into my motherhood instincts.
Doing the research to make sure that I'm portraying who Mrs. Jackson is in the most effective way possible – that was definitely new for me as well. Just the studying, and watching certain body movements and nuances, really paying close attention to detail – I would say that was really different for me.
Because Michael Jackson is such a huge icon – we're talking about the King of Pop – did you have any reservations about joining the cast and how well the musical would be able to portray his story?
No reservations whatsoever. Michael Jackson was one of my musical influences growing up – I remember where I was the first time I heard him. I remember how I felt, and he's impacted the world – generation, after generation, after generation. I love the fact that I have the opportunity to be a part of something that tells his story. And I have to give props to Myles Frost because you're watching Michael when you watch him.
Mrs. Jackson has always been portrayed as a softer figure in her children's lives. A lot of the focus has always been on her husband Joe, and the heavy hand that he raised his children with. But what have you been able to learn through your role of Mrs. Katherine Jackson, that you don't think people know or hear enough about?
I think that Katherine is a really beautiful blend of soft and strong. And I think to deal with a man like Joseph Jackson, you have to have that strength, and you have to have that fortitude. And to raise nine kids – absolutely. So I don't think that there's anything people don't know already. But I know for me, just seeing that and trying to find that balance of soft and strong was really important to me.
One piece of advice that you give for upcoming vocalists is to enjoy the journey and be present in the moment, wherever that is in their career. What will you be taking from this production as you move forward in your career?
There's probably a few things that I'll be taking. I'm a bible reader and there's a scripture that is very important and that always resonates with me. And that is Ephesians 3:20, and it says, "He will do exceeding abundantly above all that you can ask or think, according to the power that works in you." And in this production I have been able to witness and stand in the power that works in me. And I think that it's important for me to continue to acknowledge that I do have power in me, to acknowledge what that power is, and where it derives from and to always show up for myself in that power.
I spent a lot of my life shrinking and being afraid and dumbing myself down. And walking away from this, when it does happen – even though I don't want that to be anytime soon – I will walk in my power, knowing who I am, whose I am, why I'm here and who I'm here for. And making sure that I stand in that confidently.
For those that haven't seen MJ: The Musical, whether they just haven't gotten around to it or they may be skeptical, why do you recommend they go see it?
I recommend they go see it because they know about the music, and now they have the opportunity to know more about the man. This show is a beautiful depiction of one of the most legendary people in history. And I think it's important that people get to see him as a human being as well, and I believe that the show helps with that.
In addition, we are working our tails off and they're going to love it- it's an amazing show and it's extremely entertaining. Especially with the times that we're in right now, it's so necessary to take some time away from everything and MJ: The Musical truly provides that escape. So come and see us and get away with us for a moment.