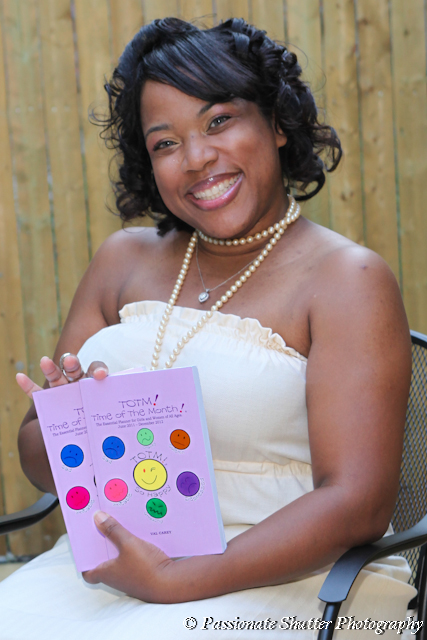 As women we've all been there- it's that one significant time in our lives that led us into the rights of passage of womanhood… Our monthly. The rag. The visitor. My friend. You got it…it's our menstrual cycle. If you're 35 and older like myself then some of you probably remember receiving a "crash" course from mom, sister, cousin, etc. on only the basics of what to do- from setting up your first gynecological exam to what things you actually needed in order to manage that time of the month. But do you ever remember receiving supportive tools that would aid you in better understanding the changes that a woman goes through physically and emotionally during that time? and learning how to communicate those changes to family members as well as your physician? Author Val Carey has done just that. This 21st century concerned mom developed TOTM! Time of the Month!, an essential planner for girls and women of all ages that helps women to better understand the ins and outs of their menstrual cycle by providing tools needed for journaling their monthly experiences. I recently had a chat with Val about her much needed book:
BM: Valarie, your essential calendar planner is ingenious! It's one of those "I wish I had thought of that" sort of books. What inspired you to create a calendar based upon a girl's/woman's menstrual cycle?

VC: When I gave birth to my daughter Shelby, it became apparent to me that I would some day have to have the "period" talk with her.  Since I never had this talk with my own mother, I did not have conversation to use as a template.  Then one day I decided I was going to set up a book for her to track her cycle and her emotions.  The more I thought about it, the more I realized that this type of book would not only be beneficial to her but to others as well.
BM: When you made the decision to become an entrepreneur, did you initially set out with the vision of TOTM (Time of the Month) or did it just happen?
VC: I always had an entrepreneurial spirit even when I worked as a cop in the NYPD.  But once I retired from the police department, I thought that would be the perfect time to write the book that's been in me for the past 11 years.  TOTM! Time Of The Month! is just one aspect of what I do.  I've been successful in real estate and now I have a multilevel marketing business in telecommunications.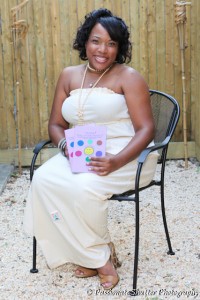 BM: Please provide us with a brief synopsis of what the calendar is all about.
VC: TOTM! Time Of The Month! The Essential Calendar Planner for Girls and Women of All Ages is just that…Essential! A must have for all girls.  It's a hybrid book/planner with tips and advice from healthy foods to eat to having a So Happy TOTM! as well as specially designed pages where you can track your emotions, cravings, pains, and remedies used.  The book is a great communication tool for women to use when communicating with gynecologist, and daughters with single dads, dads, and moms.
BM: I wish something like this existed back in the good old days (smile) when I was young and first had my period. My mother educated me with the basics, but something like your planner might have helped me to better understand the changes I was going through during that TOTM.
BM: What type of feedback have you been receiving from girls? Women?
VC: The feedback that I've have received is remarkable!  Girls are telling me they love the book!  They love the stickers that come with it also.  And women love the book too!  But not just women. men who have bought the book, love the fact that they can give something to their daughters and talk about it.
BM: You have a teenage daughter living with you at home. Did you implement the calendar planner with her? If so, how easy or hard was it?
VC: I implemented it with her in mind.  She is the muse for TOTM!
BM: You must get tons of questions from girls and moms alike seeking advice and understanding about how to approach such a private topic. What is one of the most popular questions you are asked? How do you usually respond? Â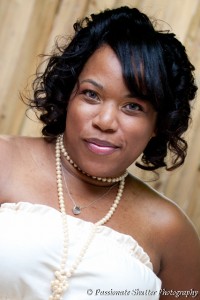 VC: I get asked A LOT of questions….but I think One of the most popular questions I'm asked by women is when do you have the talk?  And my response normally is…"Base your decision off  of when you first had your first TOTM! and begin the talk a year before she reaches that age."  That way the young lady is prepared BEFORE her TOTM! comes.
BM: You have a powerful franchise going on with TOTM: your weekly radio show, a blog and cool products. What are your future plans for TOTM? Do you have any future events you would like to share?
VC: I'm currently working on an app for cellphones.  We're also having a TOTM! Afternoon Tea at Le Chateau de Frenche Sunday September 25, 2011.  For more information www.totmtimeofthemonth.com
By Editor-in-Chief Shawn Chavis