By Priyanka Hardikar
In November 2020, Jole Gravesande started her at-home pilates business in Toronto while working a full-time job as a rehabilitation professional in a hospital trauma unit. She called her company "Forever Fit with Jole" because she wanted to provide something to her clients that would stick with them, and not just become another fad.
From Rehabilitation Professional to Pilates Instructor
Before establishing Forever Fit, Jole worked as a pilates instructor part-time at a boutique studio for eight years. She began pilates in 2005 and became a certified instructor soon after she experienced the benefits firsthand. Working as a rehabilitation professional, she incorporates pilates into her clients' regimen. "Pilates is about core and breathing, which everyone needs," Jole said.
Jole's training and background as a rehabilitation professional allows her to modify pilates exercises for almost everybody. At the trauma unit at St. John's Rehab Hospital in Toronto, Jole is always thinking on the spot and constantly learning how to work with people with different body types, injuries, and challenges including trauma, burns, and electrosurgery. With every client she works with, she is thinking: 'This person is only allowed to do this or they're experiencing this; how can I work with that client to help them achieve their goal?'
Whether her client has a knee or hip replacement, was recently injured, is an athlete who wants to get back on track, or completely new to pilates, they can feel comfortable doing a pilates class with Jole, who is versed not only with the body but also working with an injury. Jole takes a holistic approach – treating her clients as individuals and understanding that everyone is different regardless of their injury. She tries to take into account what they are experiencing both emotionally and physically. "Sometimes, people just need someone who understands where they're coming from," Jole said. "I try to put myself in their situation. I push them, encourage them, but I also use humor, so they'll do it but they don't feel like a drill sergeant is over them."
Establishing Forever Fit and Taking Risks
On Jole's Instagram account, she posted the quote: "Begin even if you have no idea it will work." This was the mentality Jole had when she started Forever Fit.
Before the pandemic, several clients had asked Jole why she didn't branch off and start her own business. The answer at the time had been that it was easier to stay where she was. But after the pandemic, everything shifted and Jole knew she could either shift with it – or sink. The pilates studio she had been working at closed during the first wave of the pandemic. With other businesses around her closing as well, she recognized the potential of a virtual company that would be resilient in any circumstances – that could stand the test of time. She felt the time was now.
Jole decided to step out of her safe bubble and put herself in an unfamiliar environment to prove to herself that she would learn to swim. "I have to live my life," she said. "Everything isn't going to be smooth and easy, but I've realized sometimes, disasters and setbacks are a blessing; they took me to another route.
"You don't know who you are until you put yourself in a place where you have to swim," she added.
When she started "Forever Fit with Jole," the whole idea was: "Let's focus on our health – how we can still incorporate our fitness and health even during these times when you can't go to the gym," Jole said. She worked on getting herself and others comfortable with this new, unfamiliar virtual platform.
In the past, she had always needed to know what she was stepping into. Now – no matter what the situation is or how prepared or unprepared she is – Jole is learning to just be confident in herself, instead of turning to panic mode or anxiety. Whatever it is, she tells herself: I'm going to deal with it to my best ability.
What Makes Pilates Different
Pilates is a type of nonimpact fitness – meaning it doesn't hurt the joints, but it improves range of motion and strengthens all areas of the body. "I love it because it teaches you exercises that we take with us through our lives, through our daily living. It's something you do that you don't even think about," Jole explains.
Everyone, even children, can benefit from pilates, regardless of sex, age, or a physical limitation. While pilates can involve equipment, it isn't required; most of the time, you're working with your body weight.
In pilates, you are working your whole body – touching each plane (supine – back, prone – stomach, sideline). You are also working with your breath, posture, and proprioception – how you carry your body through space, Jole explains. "I want to make sure you're not just strong when you're walking, but that you're strong from head to toe and in all planes of movement,"Jole said. She wants her clients to be more mindful of their posture and proper body mechanics no matter what they are doing during their day.
Jole's Personal Transformation
After Jole started exercising, she felt like she got her groove back. From a young age, Jole remembers being the "chubby kid" and just wanting so badly to fit in with her peers. She remembers wondering: What do I need to do to look like my friends?
But after graduating high school, Jole started running, and the pounds just came off. With the changes in her body also came a shift in mindset. She was standing taller. Her chest was more lifted. She would look people in the eye when she was speaking to them. Instead of putting her head down in shame, she had the confidence to confront anyone who was disrespectful to her. "I knew that I was a strong person, that this is what I had achieved," Jole said. "It's not about the physical changes, but it's about being strong, being healthy, being able to face a lot of your fears. When you start working out, you start fueling your body better. When I ran, I felt I had more energy to complete my day."
From there, Jole started researching foods and how they would benefit her body, figuring out what worked best for her, and changed her diet accordingly. For three years, she also worked with a trainer and did weight training, which gave her the confidence to run a 10k – something she would have never done before her transformation.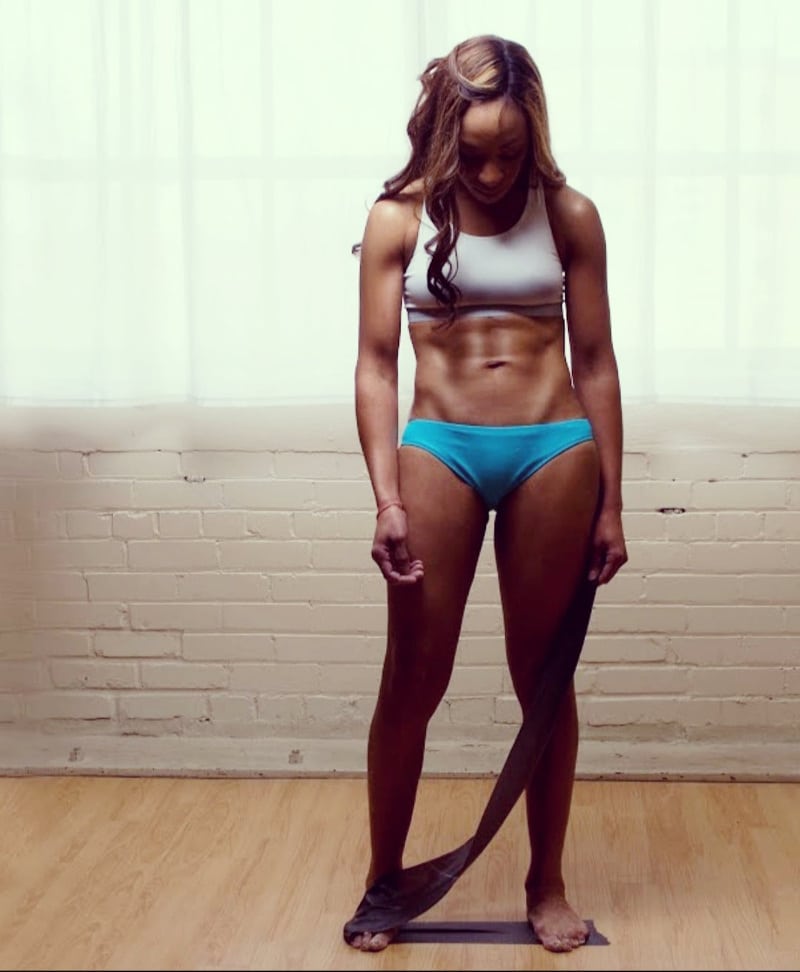 Moving from Body Shame to Confidence
For Jole, moving past body shame meant understanding who she was as a person, what she stood for, and what her purpose in life was. Once she figured out her purpose, she gained confidence in herself and was able to move past the body shame she experienced in high school. In fact, people who had once bullied her in high school were asking her for advice on how to get in better shape.
Knowing who you are is the key to confidence, Jole said. When you know who you are and someone says something negative, you can just brush it off because you know that you're not that person. But confidence isn't about one thing. It comes from your whole mindset, from a lifestyle change. "It's the different pieces that need to be put together in your life. It's your diet, exercise, figuring out who you are, your purpose. It's your self-esteem. If I put on five pounds or I lose five pounds, it doesn't matter. How I look doesn't matter, it's about how I feel and who I know I am," Jole said. It's that same message she tries to instill with those she engages with.
Instead of beating yourself about your body image, let's do something about it, Jole tells her clients, and she helps them make the changes they need to get to where they want to be. What do you have to do to get to where you want to be? she asks.
Changing How We Evaluate Progress
One of Jole's clients was in a wheelchair, recovering from a spinal injury. She was anxious to get back to where she was before and was very hard on herself when her progress did not meet her own standards. "When you're a healthy individual, you have high expectations of yourself and you put yourself down. When she started speaking badly about herself, I just reminded her, 'Remember you could not do that when I first met you. I've only worked with you for two months, but look at your core strength,'" Jole said.
When you are not walking, the body quickly loses muscle and loses range of motion. Jole put an exercise regime in place that focused on strengthening the muscles she knew would be overused, while also helping her client slowly get her range back.
Jole reminds her clients of where they started and just to look at it week by week. "Instead of asking yourself, 'Why am I not here yet,' look at the little goals that lead up to the final destination. Look at little things you may overlook, simple things you take for granted. Remember how difficult it was for you to do this exercise when you first started," Jole said. Changing how we look at progress enables us to see how far we've truly come.
Note: As an instructor, Jole will do the exercises with you, but also provide immediate feedback. She will make sure you get a good workout, but have fun while you're doing it. Check out Jole's Instagram and website, and schedule a class with her.