By Tobbylola Oniga
Music is a form of comfort to some individuals. Starina D' Haiti found comfort in the Cello when she migrated to the United States at a young age without her parents. When she felt alone, music became her best friend. The nonprofit organization Miami Music Project helped D'Haiti find her passion in life.
Bronze Magazine: What was the most difficult part about leaving Haiti and moving to the United States?
Starina D' Haiti: Being in a new environment without my parents was probably the hardest part about coming here. When I arrived, it was myself, my two sisters and my godmother, so we had to say goodbye to our parents at such a young age for a few weeks, which was frightening.
Bronze Magazine: You came to the US and found out that music was your calling. How did you know that music was what you should invest your time in?
Starina D' Haiti: When my mom arrived, she wanted to put us in a program. She told us that to live in the United States, you need to have a unique trait or skill. In the end, she picked music for us, and while I don't know what brought about that decision, I'm grateful that she did. Since I was the oldest, she decided I would play the bigger instrument, which ended up being the cello. She decided that my sister would play the smaller violin. In a sense, I really do think it was all a matter of circumstance.
At first I didn't like it [the cello], but over time I slowly began to get a feel for it and eventually fell in love with it once I joined the Miami Music Project. At MMP I was in multiple orchestras, had the chance to practice further by helping out other kids in the project, and also had an opportunity to take private lessons that widened my skills and technique. What finally sealed the deal was when we had a concert for the end of our summer camp program led by Maestro Birdie, who chose the musical piece 1812 for us to play. I played hard pieces before, but 1812 was a whole separate beast to tackle. When we played it at the concert and I heard how everything just came together, and how the crowd was cheering for us, it gave me the confidence boost I needed to know this is what I wanted to do.
Bronze Magazine: What tips can you share for individuals who have experienced PTSD, anxiety, and depression?
Starina D' Haiti: I believe experiences with PTSD, anxiety, and depression are hard because it gravitates you towards feeling alone. When you are going through such intense emotions, you don't want to reach out for help. Because of that, my advice is not to be afraid, to get help, and to ask for help no matter what the situation is; whether you're feeling nervous or scared about something, or experiencing mild anxiety.
I also recommend finding something comforting to ground you whenever those emotions stir up. For me, it's the song "The Way I Feel Inside" from the computer-animated movie Sing. MMP had a partnership with the film and we had a chance to meet one of its voice stars, Tori Kelly, whose character is one of the lead singers. So, whenever I feel sad or on the verge of having a depressive episode or panic attack, that song brings me an incredible amount of comfort that helps to calm me down.
Bronze Magazine: Talk to us about joining the Miami Music Project. How did it change your life?
Starina D' Haiti: Right now, I'm pretty confident that I have a solid idea of what I want to do with my future, and I wouldn't have been able to develop that outlook without the Miami Music Project. Every opportunity I have had ties in with the time they have invested in me, which really opened doors for my future. One example of this would be the private lessons I had with them. Playing with different teachers gave me a lot of exposure, which eventually led to those teachers reaching out to me and offering me scholarships for their schools. That helped a lot because at the time I was concerned that my family wasn't established enough in the States to financially support me.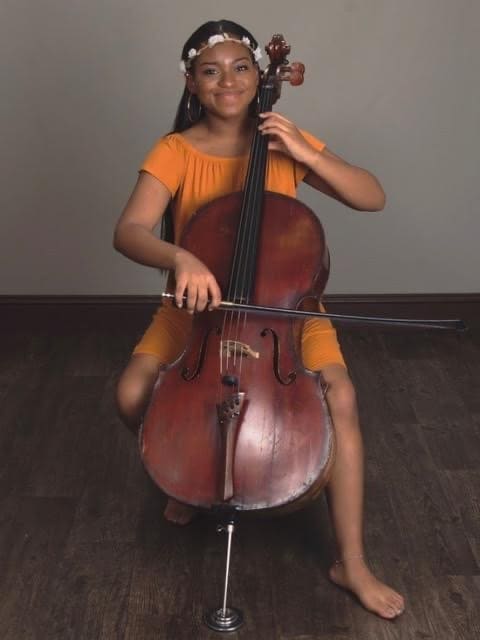 Bronze Magazine: You talk about how the Miami Music Project made you a better person. How important would you say it is to have a strong support system behind you?
Starina D' Haiti: My family isn't musical, so they could never really understand how much music meant to me or how anything serious could come of it. Naturally MMP did, which really helped to keep me going because it can be easy to feel lonely, unintelligent, and insecure in a lot of ways. MMP just had a way of helping with that. It's crazy to think that a group of people could have such a positive effect on your life, while at the same time teach you humility, patience, and how to be kind. My connection felt very personal to the program, and in turn, when I eventually had to work with kids, the lessons I learned from MMP gave me the skills to make me a better person to work with others.
Bronze Magazine: You have nine years of experience playing the cello. Talk to us about how you picked this instrument and how you mastered it.
Starina D' Haiti: I came to master it when I started getting private lessons with the Miami Music Project. Through one on one time, I had an opportunity to learn the intricacies of the instrument, learning different techniques with the bow, different styles of play as well as the different positions on the neck of the cello. I learned things I would have never known existed from my private lessons. Through MMP, my relationship with the cello felt like it became much more intimate.
Bronze Magazine: Not only are you skilled on the cello, you also sing, play the viola, piano, recorder, and guitar. How were you able to learn these skills? Do you focus on one instrument more than the others?
Starina D' Haiti: I definitely focus on the cello more than I do any other instrument. However, my love for playing the cello made me want to try other instruments. I already played the guitar before I came to the U.S., so it just felt right to try and learn the cello next. My skills were transferable except for the recorder since the feeling for stringed instruments are pretty much the same for me. Thankfully, my teachers were very patient with me over at the Miami Music Project, instilling that initial skill on the cello in me.
Bronze Magazine: How are you able to balance being in school while focusing on your music?
Starina D' Haiti: Thankfully, it's super easy to balance now because I go to school for music. So, all of my homework and activities have to do with music, which is pretty cool. Back in high school, however, it was harder because music wasn't my primary focus and I struggled to play with confidence since I wasn't experienced yet. In my high school there was a tradition at the end of the year concert where the 8th graders get to sit in the back and play with the high school orchestra. When I joined that group, it felt like there were 50 cellists ahead of me who were better than me, so I felt very insecure. Thankfully, I learned to put that insecurity behind me, and as I got better the balance became easier.
Bronze Magazine: What is some advice you have for someone who just migrated to the United States from their hometown and are having a hard time fitting it?
Starina D' Haiti: It's going to be okay! It's going to be hard at first, but you have to trust that everything is going to be okay. In my case, it may have taken 10 years but I'm in college and my parents have a stable income. My sister is preparing to go to college as well and my brother even got into private school. Everything works out for the best whether it's sooner or later. So just be patient and keep your head held high.
Bronze Magazine: What are some goals you're looking forward to accomplishing during your lifetime?
Starina D' Haiti: I want to be in a studio film orchestra for Disney, Pixar, or any of the major film production studios. My biggest dream is to work for Disney, and I promise you someday I will make it happen!
We are looking forward to all of the amazing things Starina D'Haiti will be accomplishing in the future. Stayed tuned for her upcoming projects and remember, "You can use music for so many things, even as a platform for social change, and if we all listen, we could all be closer and more connected, with less hate and more love."