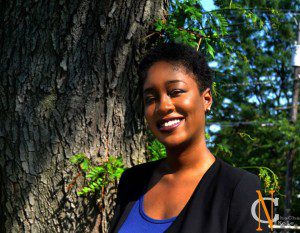 New Jersey-based writer and author Latifah Miles has launched a forum called "Ask A Black Chick"—an anonymous, safe space for white people to present their racial inquiries to an even-tempered, understanding black woman. The forum was created back in December, and can be found exclusively on her site Young, Fabulous and Natural. Miles, along with a team of 50+ contributors, aims to improve on the defense-offense dynamic of race relations by cultivating open and honest conversations in an environment which is judgment-free.
She initially started the Q&A forum because a white friend of hers was hesitant to ask a race-related question, and didn't want to come across as ignorant or rude. With "Ask a Black Chick," Miles' ultimate goal is to give well-intentioned individuals like her friend a place to acquire knowledge and increase their awareness about race. She hopes that the forum will eventually make an impact on a national scale. Black women are inadequately represented in the mainstream media, and when they are, it's too often not on their own terms.
Here is what she had to say on her latest endeavor:
BM: What made you decide to start and build a foundation for "Ask a Black Chick?"
LM: There is a major deficit when it comes to having conversations about race. There is one side stubbornly voicing their opinions and truths, and the other side doing the same thing, but no one is making an effort to have an intelligent conversation on the subject. People have legitimate questions about black culture and would otherwise be uninformed if they didn't ask. "Ask A Black Chick" is all about creating a positive space for us to discuss race and culture without being overtly offensive.
BM: What type of feedback or responses have you received from it?
LM: The feedback that we've been receiving has been incredible. Black women have been contacting me to join the answering community, while the questions for the series are just rolling in. It blows me away that readers have these types of inquiries. They aren't just basic, surface questions either. People are taking the time to write whole paragraphs. I am beyond excited that I am able to facilitate this type of conversation.
BM: What is the intended purpose of "Ask a Black Chick?"
LM: The purpose of "Ask A Black Chick" is twofold. On one end, I want to help give a voice to black women. It is about time we narrate our own stories and truths about what it means to be a black woman. The answering community provides the insight to these questions and the series allows their thoughts and opinions to be shared with hundreds of readers. It matters. On the other end, I want to begin to change the way we talk about race and the way black women are viewed. If someone submits a question that thousands of people are thinking, but have no one to ask, then the answers to that question could potentially lift the veil of ignorance, if only an inch.
BM: What message do you want to convey for your audience?
LM: I want the audience to know that "Ask A Black Chick" is about making a change in our community as humans. I want them to think of the series in this way: If the forum can change the way others view black women and give them a sounding board, would there be one less Sandra Bland, Marissa Alexander, and 15 less rape victims pushed into silence because they believe their truth is not worthy? Maybe. Maybe is more than enough for me.
BM: What are your favorite topics to cover?
LM: The questions about race directly are my favorite topics to cover because it gets both the readers and answering community excited, passionate and fired up. I love to see that.
BM: Do any of the topics or questions reflect your personal life or past?
LM: Oh yes, most definitely. There are questions about our own personal experiences with racism and discrimination. It can be easy to forget over time the prejudices that have happened in my own personal life. Especially when it is subtle. Questions like that drudge up all of the times that I have been followed around in stores, treated like a destitute, and all around like I was less than them.
BM: Personally, how would you define a black woman or "Black Chick?"
LM: To be a black woman or a black chick is a magical thing. Black women throughout history have endured the unthinkable. We have walked through flames and still rise above adversity. We still succeed. Black women are strong, vulnerable and continue to be an integral part of our culture.
BM: What is your goal and vision of the future for "Ask a Black Chick?"
LM: "Ask A Black Chick" will live outside of the internet and beyond. I don't want this to be the last stop for candid conversations regarding race. "Ask A Black Chick" will go on to have live forums where people of all colors and walks of life can understand what it truly means to be a black woman.
By Farren Washington