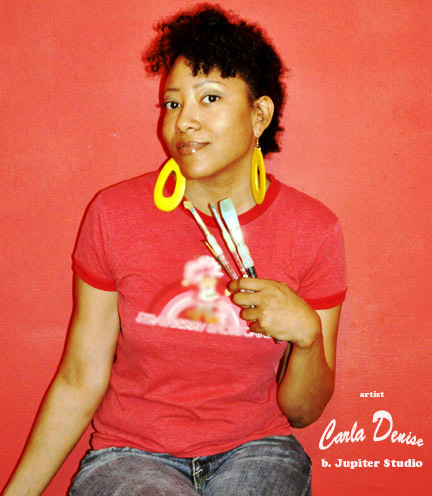 Carla Denise's talented artwork can be best described as expressionalism with an urban edge that people can not only relate to, but have access to.  Each piece of her art carries a moment, thought, or emotion through its vibrant liveliness and movement.  Carla loves to express the beauty in life through her paintings, while counterbalancing negativity and self-hatred.  Everything is and always will be painted in a positive light.
BM: Hello Carla it's great to meet you! Thanks for taking time out to talk to us today. How did you get your start as an artist/painter?
CD: Well I was always an artist but I didn't really start taking my art serious until like the early 2000's. Â I had moved into a new home in DC at the time and I absolutely hated the way the bare walls looked so I just quickly did three abstract paintings to cover it up. Â Whenever I had company though, the paintings always ended up being a point of conversation. That's when I started getting more serious. I Â started coming to the realization that my art could very well grace other peoples walls as well. I started honing my skills whenever I could. I was also at a point in my life where I was searching for what it was that I was truly meant to do. I had a lot of "jobs" in my life, but nothing ever seemed to fit quite right. Looking into my childhood, I realized I was always an artist and decided to just roll with it. The amazing thing is whenever it came to my art, everything always seemed to just fall into place. Looking back, I had a lot of creative people come into my life as well, sometimes just enough to keep me on my path.. that's how it is when it's your life purpose.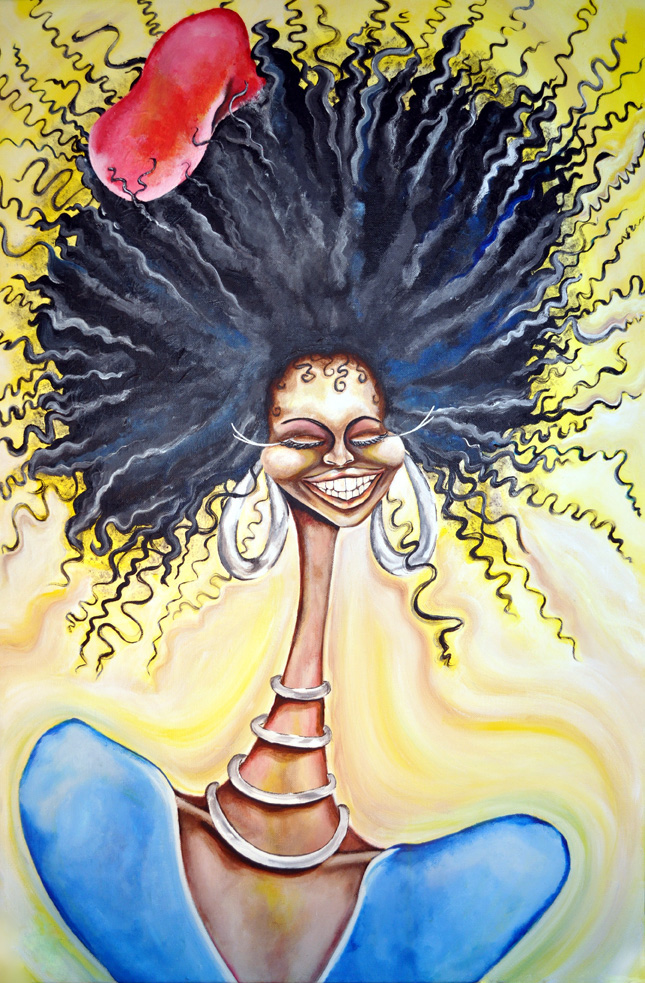 BM: How would you classify your art? What various types of artwork do you make?
CD: I classify my art as expressionism with an edge. Â Its very down to earth, soulful and funky. Â I don't ever want to produce stuffy pretentious art, because that's not me. I want people to be able to relate to my art. I keep it fun with bright colors, each piece speaks a moment, thought or emotion. I have love for the fellas but I'm often all about the ladies when it comes to my art too. It's all about spreading positive messages. My first love is doing colorful acrylic on canvas paintings, but I also do eco-friendly mixed media prints, where I incorporate recycled fabrics into the art, and yes those are just as funky! Â It's important for my art to always be attainable, so it's available in several forms ranging from original paintings, to prints, to handmade cards. Take your choice!
BM: Where do you draw on for inspiration in your artwork?
CD: I can find inspiration in almost anything, Sometimes it's the most unexpected things, like subtle backgrounds, or abstract art, other artists tend to inspire me as well. Its strange, but just being in the presence of another artist doing art makes me want to start doing art too. Often I can have images just pop into my head and I can't wait to get it on canvas, but mostly I'm inspired by bold patterns and the flow of vases. I'm constantly trying to capture that natural flow. My art also has a bit of a fashion influence to it.
BM: Do you have a favorite piece and why?
CD: Yes, one of my favorite pieces is called "Lil tote bag o dreams". It's from the Bag Ladies Collection, a group of paintings I do, all featuring women with their bags. "Lil tote bag o dreams" of course is all about the dreams and I 'm a huge dreamer so I love it! It reminds you to hang on to your dreams, remember to take time for yourself, your thoughts, have fun and keep smiling.
BM: If you had to describe yourself in terms of being a painting, what would your description read and why?
CD: Finding Love- Breaking down to build back up to the new and improved you.. its all about owning yourself. I say this because I'm all about searching, finding, and learning to love the authentic me.. that's true love!
BM: What has been one of your greatest challenges (if any) as a female artist?
CD: Fortunately, I haven't had too many challenges but one thing I do find annoying is when people don't take a female artist as serious as they do a male artist.  Not everyone, but there are people out there who associate good art with "male energy" and do tend to automatically gravitate toward a male artist before they would a female artist. Though, I don't see it much among artists themselves. Artists tend to have a general respect for one another, or least that's been my experience.  Overall I tend to block a lot of that type of energy out, so I guess that's why it hasn't been much of an issue. Then there's also the reality that some people automatically expect to easily take advantage of you simply because you are a female. I use my intuition, though, and I have been blessed so far. To be a female is to be a creative being by nature. To help lessen any challenges, I think it's important for us females to band together more in artistic pursuits.. in any business really.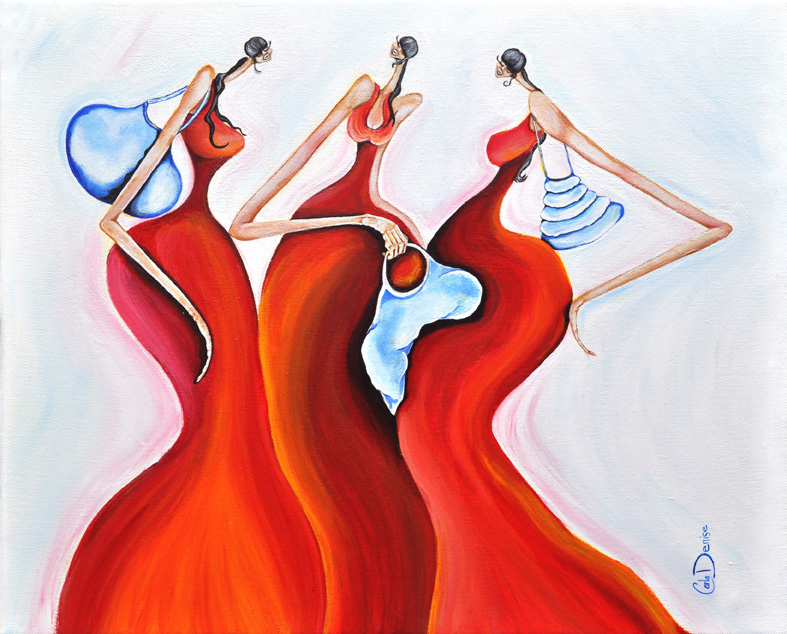 BM: If you could say something inspiring to other aspiring artists what would you say and why?
CD: Practice your craft as much as possible, try and surround yourself with other creative people, learn all you can about the arts industry and last but not least don't be afraid to create your own opportunities.
BM: How can our readers purchase your work and follow your future projects?
CD: To purchase art, stay posted on gallery and other events, find retail locations, or to just get in touch with me you can visit me online at www.CarlaDeniseArt.com  And if in the NY area, this summer I can also be found at the Astoria Artisan Market in Queens on Sundays from 12-5pm at Bohemian Hall.
BM: Carla, it has been a pleasure speaking with you today. You are such a talented and gifted individual and we wish you all the best!
CD: The pleasure was all mine. Thank you so much!