by Lakesha Stuldivant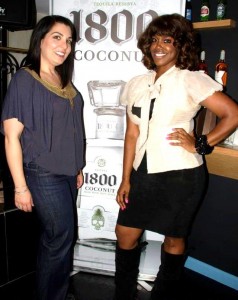 Lights dimmed low, candles burning and soft music set the mood upon arrival. From the very first moment, it was clear this was going to be a great evening. Beautiful people were mixing and mingling while complimentary shots of a Coconut Tequila and pineapple mixture flowed throughout the room. Yet, The collaboration of R&B Soul Songtress ESNAVI, Alison Raffaele Cosmetics and 1800 Coconut Tequila which provided us an intimate evening at the Alison Raffaele Cosmetics Launch Party, was the best concoction of the night.
Alison Raffaele was a delight. She performed demonstrations of her amazing cosmetic line throughout the night. As I watched the expressions of women as they took their turns, I simply had to give it a try. Alison placed the Face Forward Primer on my hand, the velvet smooth touch left me rubbing it for about five minutes after she was finished. After I extended my hand to her again, she then placed the Reality Base Foundation, which seemed to melt into my skin, then disappear. Ladies, how hard is it to find a full coverage foundation that blends into your skin for an exact match, yet feels so light you forget you have anything on? Well look no further, Alison Raffaele Cosmetics is here.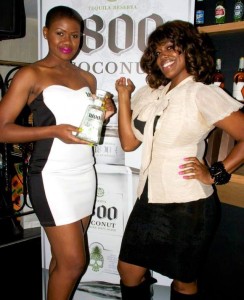 ESNAVI, the first African-American woman as the face of Alison Raffaele Cosmetics, graced the stage with her beautiful voice. A mixture of Chrisette Michele, Jill Scott and Lauren Hill, her voice captivated everyone within earshot (including spectators walking past the venue). From the mainstream to original songs, ESNAVI entertained guests with pleasure.  With hits like "Unexpected Love" an original song, to "Crazy" by CeeLo, she commanded the attention of every person in the room. ESNAVI has the ability to take the words of a song and make them come to life. Her final song "Morning Dew" had fans waiting with anticipation. Even though she gave a stellar performance of the hit, guests went home with a copy of the single in our goodie bags. To top it all off, ESNAVI also gave away a Sony Reader, as well as an INSTYLER to two lucky guests that tweeted about the performance using the hashtag #MorningDew. This woman is simply amazing! she's beautiful inside and out. Alison Raffaele made the right decision to have ESNAVI as the face of her company.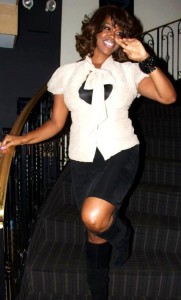 Now, I have to give shout outs to some of the other people that helped make this night a success. Delightful Cake Kreation offered delicious mini red velvet cupcakes that were almost too cute to eat (just almost, because I did have my share). marX New York is a beautiful space filled with pleasant staff. Located in the heart of Midtown, marX is perfect for "Happy Hour" with drink specials during the week. A big shout out to one of  the new hosts of 106 & Park Ms. Mykie for coming through and greeting guests. I also met a lovely lady by the name of Jada, owner of Glamorous Geeks, a brand consulting firm, who was very personable and passionate about her skills. Be sure to check her out! And let's not forget Dazzle Dry, who donated their top coat nail polish for our goodie bags.
So until next time, ladies stay Classy, Sassy and Fabulous!