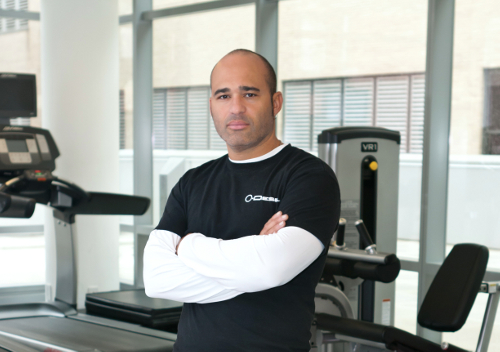 photo by Matt Pacora
Oscar Smith, world renowned fitness trainer to the stars and owner of O-Diesel Studio has had a life filled with challenges and obstacles.  From growing up in a broken home to his various struggles as a young male, Oscar finally realized at the age of 16  he had to do something to turn his life around for the better.  Oscar was one of the fortunate ones, although he didn't realize it at the time; he was taken in and raised by an Irish-Catholic family who showed their love and support while giving him no other option but to succeed.  Oscar Smith certainly has a message of inspiration and motivation to give: Having gone from a difficult childhood to attending college and earning his Bachelors Degree; struggling with and overcoming Dyslexia while in his third year of college; obtaining his Masters Degree and finally on to become "FAB" Celebrity Fitness Trainer, Entrepreneur Extraordinaire and oh, did I mention…he's also one of New York's Finest. I had the opportunity to chat with this multi-talented, amazing man in-between his busy schedule, and here is what he had to say about his past/present and future…
Patricia:Â  Hi Oscar, Thank you for taking a few minutes out of your busy day to speak with me.
Oscar:Â  You are welcome Patricia.
Patricia:Â  Lets talk a little bit about your past and what was your turning point that made you decide to do what you do today?
Oscar:Â  Â I had no choice, I was headed down the wrong path and knew I had to do something different and with the help of a wonderful family that took me in, I knew it was my last chance. Â Â I was always very athletic and besides playing football in school, I was also a Life Guard on Long Beach. Before I decided what it was I would be doing, I had a job as a part time Physical Education Teacher and in 1997 after talking to a few friends that were with the NYPD, I decided to take the test because I felt what they did was exciting and I that's when my career with the NYPD began.
Patricia:  When I was first asked to interview you, I was fascinated not only by the fact that you are a celebrity fitness trainer, but also by the fact that you are one of New York's finest and part of New York's Search and Rescue Unit, which happened to be one of the first called in to assist  US Airways Flight #1549 that landed in the Hudson River in 2009. So lets talk a little bit about that for a moment. I know all of America couldn't' believe that story and the pictures of the plane floating on the Hudson with 100% survivors; there you were up close and personal to it.  What was that experience like for you?
Oscar:  It was quite a surprise, and relief to know that everyone survived.  I was at the gym training and received a phone call from my wife letting me know what had happened.  I was excited to know everyone was safe; my unit was one of the first called in and when we arrived on the scene we didn't have anyone to rescue( which was a blessing) but we still  had to make sure that the plane was secure. We had  to secure it to a boat so it wouldn't continue to float down towards Battery Park.  The engine  broke away and we had to secure that as well.   But, it was exciting to be part of that moment also knowing that the outcome could have turned out far worse.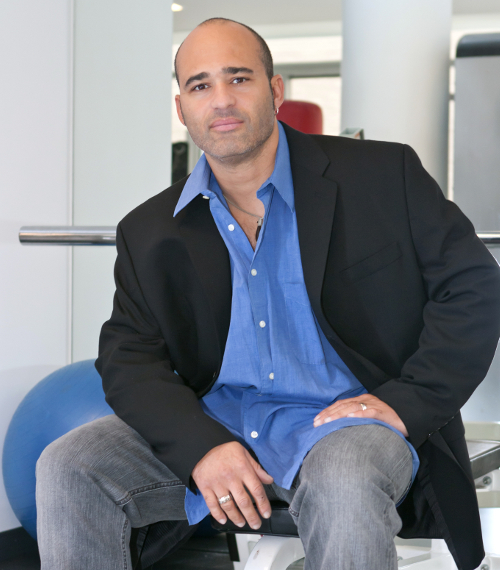 photo by Matt Pacora
Patricia:  This week marks the 10th Anniversary of 9/11 and I am aware that Mayor Bloomberg decided "NOT" to invite the first responders to attend the new memorial dedication and clergy-led prayer was barred as well.  First I want to say, I don't quite understand that decision and know there are tons of people (especially New Yorkers) who were very upset with this announcement. Can you share your thoughts and feelings on this?
Oscar:  I really don't understand the political reasons behind why people who did their jobs and volunteered to help would not be invited to attend.  That day meant so much to everyone, and it united everyone in such a positive way.  Everyone connected and helped each other out; it was good ole southern hospitality.  People were there to support and look after one another.  I just think it's not right  to invite and show your appreciation and concern to the people that helped the most.
Patricia:  I am sorry to hear this- what a great hero you are as well as everyone else who was there to help on that horrific day.  Although the Mayor didn't find it important to invite the first responders to the 10th year anniversary memorial of remembrance, we honor, thank and appreciate all of you…
Oscar:Â  Thank you Patricia
Patricia:  So Oscar, besides the wonderful things you do on the  Search and Rescue Unit in NYC, you  have this other fabulous life of being a Celebrity trainer, with the current task of training 30% of the worlds top supermodels, helping them to get prepared to strut their stuff on the runway for NYFW. How did you secure such a job out of all the other fitness trainers around?
Oscar:Â  Word of mouth from my first client Rianne ten Haken who happened to live across the street from where my first gym is today, I trained her and her friends started noticing her transformation and wanted to know more about me.
 
Patricia:Â  Word of mouth is a double ended sword, it can either work for you or against you and you were one of the fortunate ones that it worked for and it doesn't hurt that you have an amazing ability to be able to transform people's lives for the better.
Oscar:Â  Thank you Patricia and you are right. Modeling is such a competitive field and most people (especially models) may not want to share all their resources because they might be afraid of someone looking better than them, but these models shared me and continue to share me and people saw results and because of that O-Diesel Studio was born.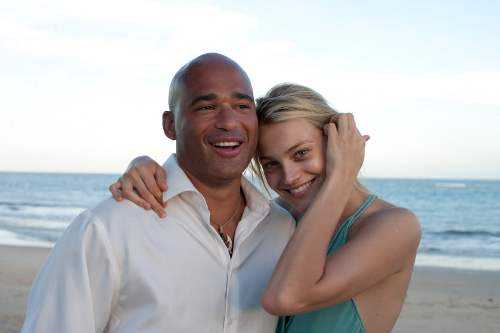 Patricia: You are currently training the following models for Fashion week but your client list goes on and on:
Karman Pedaru
Anna Jadgodzinska
Arizona Muse
Anai Mali
Julia Saner
Catherine McNeil
Hannah Holman                                                                                                                                           

I would like to know more about the grueling (what some might call it) but effective workout of Oscar Smith.
Oscar:  Well I am tough, if you think you can come in and not work hard you've got another thing coming.  I will push you and personalize a program just for you and its not going to be an easy time if you are serious about getting yourself into shape.  I offer private one on one sessions. Most of my clients train for 1 hour, 3 times a week and some may train once a week for tune-up.  I believe exercise with the right diet is the key to healthier living and I really enforce that.
Patricia:Â  You have recently partnered with the James Hotel in Soho and you will be opening your new signature O-Diesel Private studio in Tribeca; that's exciting ,please share more about your studio.
Oscar:  Yes, I am happy about that.  I was having lunch with Petra Nemcova one day and I was approached by the owner to partner with them.  In the meantime I also partnered with the Soho Grand and TriBeCa Hotel.  My new studio is a 1,000 sqft inch space in Soho, which is more private and intimate for my one on one sessions with my clients .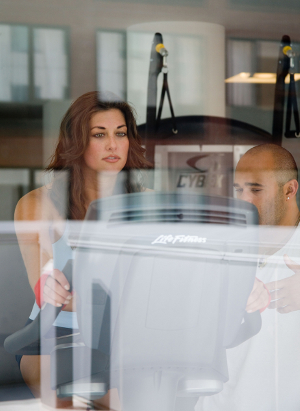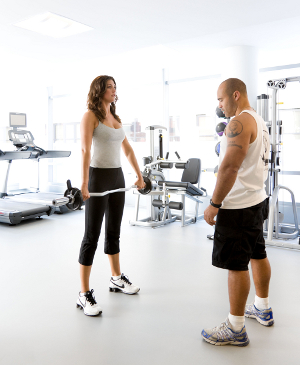 Patricia:Â  So do you train ordinary people like me… LOL
Oscar:Â  Yes, I train anybody and everybody that is willing to do the work. People have to realize nothing happens over night.
Patricia:Â  You seem to be so balanced. How do you manage that?
Oscar:  Having a gym definitely balances me.  I really love what I do and having the opportunity to meet so many wonderful people with so many different backgrounds is perfect for my laid back surfer attitude.  I enjoy people and helping them to live a healthier life style; so for me, the satisfaction of knowing I have accomplished that with my clients gives me balance.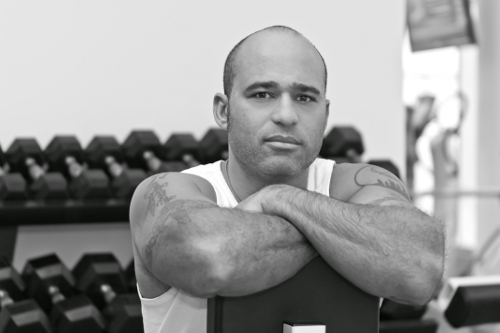 photo by Matt Pacora
Patricia:Â  So what's next for Oscar Smith??
Oscar:Â  I will be coming out with a video sometime in January called " O-Diesel 32 Video" which is "32 days – 32 different workouts" and I would like to eventually open more studios- in Paris as well as in London in order to serve my clients and really help educate Europeans on the importance of exercise.
Patricia: Europe, what a great place to start and hopefully we will be seeing your studios all around the world. I know I mentioned to you that I always thought Europeans lead a healthier lifestyle than we did because the majority of them are so much thinner than we are here in the States.
Oscar:Â  They are thinner because they eat smaller portions but they don't play the sports like we do and I would love to put studios there to help them get into better shape. As I always say, "Exercise with the right diet is the key."
Patricia:  Well congratulations to you!  You are such a great inspiration for others that may not have had an easy beginning but it goes to show that with discipline and great role models you can succeed beyond expectations. I wish you continued success and I look forward to seeing your studios pop up all over the world.
Oscar:Â  Thank you and, it was my pleasure.
Patricia : To learn more about Oscar Smith and O-Diesel Studio , please go to
http://www.o-diesel.com/about/
By Patricia Rivera