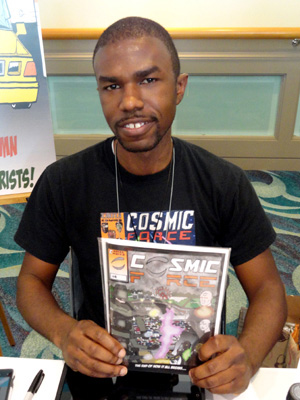 Allen Carter founded Carter Comics in 2010 as an independent corporation to eventually produce three mainstream comics: Damn Tourist, The Figure-Of-Speech Mongoose, and Cosmic Force. At the age of six Carter loved to draw and story tell. In grade school he loved the freedom of being able to tell any story he wanted and drawing anything as he pleased. He recalls at eight years old how his father read some of his comics and was blown away by his skill to combine his interest in creating concepts, stories, and characters. In 2010 those characters that he once created in grade school eventually became a part of Carter Comics.
Most of Carter's ideas come from observing people such as family, friends, surroundings, or strangers, and other interests outside of comics. Ideas for "Cosmic Force" came from being a fan of paranormal news magazines and shows like "Unsolved Mysteries." It's a science-fiction/suspense tale with superhero elements. It portrays the mystery of how five characters received their abilities, but also how they deal with being declared dead by the rest of the world due to their prolonged absence. "Damn Tourists!" was the result of Carter being born and raised in Hawaii, and his encounters with obnoxious tourists from time to time. It's written satirically by making fun of such obnoxious tourists as well as implying how people should not act while on vacation. "The Figure-of-Speech Mongoose" was created because of how intrigued Carter was by the animals and their existence on Hawaii. It's a collection of comic strips that are fun and illustrate different of types of everyday idioms.
Carter says that his style of art is very commercial, but still unique enough to stand out from other artists. When he writes he likes to withhold some information from his readers, while giving them just enough to wonder about what's going to happen in the next issue. His stories are uniquely different because he likes to come up with "out of the box" story concepts that haven't been widely used, or he uses a new take on an established genre. He thinks of his characters as his children. He explains, "I create them, nurture their growth in developing their personalities, and take great care in telling stories that I feel, and hope that others feel too."
Carter attended his first convention in July of 2010 to present in a public showing. After a few years of being on the comic-convention circuit doing mostly smaller shows, he did his first big convention in 2012 at Wondercon in Anaheim, California where he was able to receive money in exchange for his works. He started to make appearances at newer shows, and returned to previous shows with new work to help convince customers and other artists that he was truly dedicated towards his work. He has attended shows such as the Alternative Press Expo in San Francisco, California, Long Beach Comic Con in Long Beach, California, and Amazing Las Vegas Comic Con in Las Vegas, Nevada. He has been interviewed on various podcasts and radio shows such as "The Mother Love Show," and reviewed by several online publications. He also holds book signings in Los Angeles, California, and sells his books through Amazon and his online website to gain an online presence.
Allen Carter does not dedicate all of his success towards himself. There are three people that come to his mind to help take his work to another level- Samuel Campos is his good friend and former art instructor in college who helped improve his art by helping him get a better understanding of anatomy and comic book story telling. Mark Rivers is his friend and co-worker who invited Carter to be a part of his alley table as well as helped him to make appearances, sell his books, and also helped him gain knowledge on printing professionally. And lastly, Joe Williamson, a friend and manager that has helped him with exposing his work through radio and podcast interviews. Carter considers these three individuals as well as others as resources, a support system, and more importantly, family.
Carter has just finished his first freelance comic project that was adapted from a popular web series that should be debuting at comic conventions this fall. He is also working on a freelance project involving comic adaptation of an award-winning independent horror film which should be finished early next year. Carter is also hard at work on the fourth issue of "Damn Tourists," and the sixth issue of "Cosmic Force." Lastly, he is continuing his "Mongoose Monday," which takes place every Monday, and can be found on his Facebook fan page.
Website: allen-carter.squarespace.com
Facebook: facebook.com/figureofspeechmongoose
Instagram: @alfortytwo
by Erin Napolean