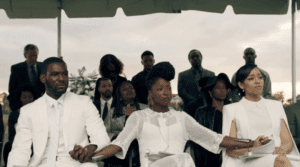 Executive producer Oprah Winfrey has added a new drama series to her OWN Network. The first two episodes of "Queen Sugar," premiered September 6th and 7th at 10 p.m. Alongside Oprah is visionary filmmaker, Ava DuVernay as the shows creator and executive producer. DuVernay constructed the entire directorial team of female directors who include So Young Kim, Neema Barnelle, Kat Candler, Salli Richardson Whitfield, Tanya Hamilton, Victoria Mahoney, and Tina Mabry. The editorial team is also made up of mostly women. The decision to cast all-female directors came about after realizing she was in the position to enact the change that she wanted to see in the industry, as she stated in an interview. DuVernay also chose to make the entire crew inclusive of a mixture of races and genders in order to give the show something that is not seen in the production crews of many shows.
"Queen Sugar" is based on the best selling novel by Natalie Baszile. This drama series is about the estranged Bordelon siblings Nova Bordelon, Charley Bordelon West, and Ralph Angel Bordelon. We are introduced to each shortly before the tragic death of their father, Ernest Bordelon (Glynn Turman), and we see them in their individual lives. The siblings inherit their father's sugar cane farm in Louisiana after his passing. It is this tragedy that brings the siblings back into each others lives.
The eldest sibling, Nova is an activist and journalist, played by Rutina Wesley (True Blood). Charley, played by Dawn-Lyen Gardner, is the wife and manager of NBA player Davis West (Timon Kyle Durrett) and the mother of Micah West (Nicholas L. Ashe). Ralph Angel, played by Kofi Siriboe, is the previously incarcerated father of Blue Bordelon (Ethan Hutchinson).
The three siblings have to put the very different lives they lead aside and work together to save the sugar cane farm. Helping them with the farm is their aunt Violet Bordelon, played by Tina Lifford, and a friend of their father, Remy Newell, played by Dondre Whitfield.
"Queen Sugar" is not like other shows that people are used to. It follows a slow pace which adds to its intensity and allows audiences to really get into the struggles that exist in the variety of black families presented in the series. The characters are well defined and the first two episodes gave off a good sense of where they are in their lives and that they are headed down a road that is both difficult and new.
Charley has to deal with the scandal hanging over her marriage with Davis West. Nova is dealing with an affair she is having with a married police officer, and the conflict between her job as a journalist and her activist work. Ralph Angel has to find his way after being in prison, as he struggles to raise his son apart from his son's drug addicted mother (Darla played by Bianca Lawson). They have to find a way to work together because each of them owns one third of the farm. This drama series gives off an authentic and honest feel of how challenging and complex life is.
"Queen Sugar" comes on every Wednesday at 10/9c on OWN.
By: Kadisha Kentish
Information Sources:
http://www.npr.org/sections/codeswitch/2016/09/04/492295111/ava-duvernay-and-queen-sugar-celebrating-diversity-inclusivity-in-tv
Photo Sources:
http://www.indiewire.com/2016/06/queen-sugar-trailer-ava-duvernay-oprah-winfrey-network-1201691922/
http://www.trapdaily.tv/queen-sugar-season-1-episode-1/
http://variety.com/2016/tv/news/queen-sugar-renewed-season-2-ava-duvernay-1201828038/
http://www.hollywoodreporter.com/features/oprah-winfrey-ava-duvernay-black-920196