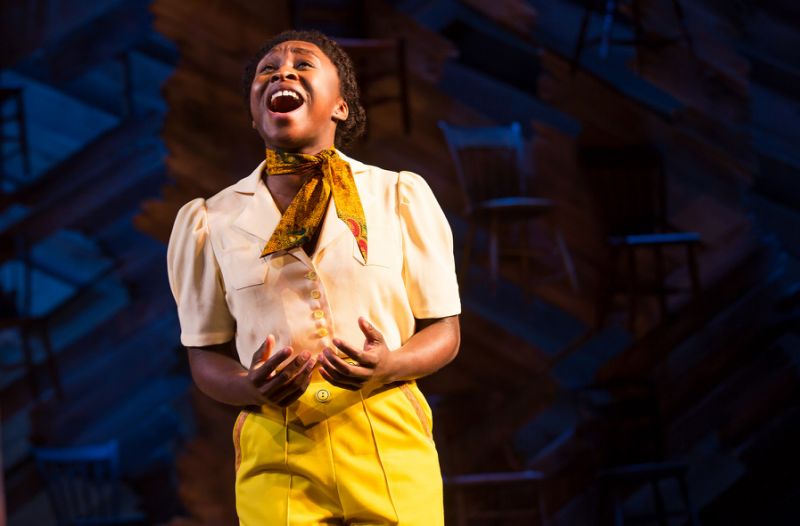 Black artists have been around for centuries. It seems like we're born with art in our blood: the generations of natural-born writers, poets, musicians, and actors among our numbers speak to that phenomenon. An astonishing number of big names in arts and performance professions across the board are black, and talents such as Samuel L. Jackson and Beyoncé are widely beloved household names. Black excellence in art is never any further than a quick Google search away.
So why, then, are the trophy shelves of black professionals so empty?
The subtle but telling bias of many award committees is probably about as old as the practice of giving awards itself. Part of the problem stems from a system of institutional racism that pervades even art communities of which the acting community is a prime example. A large number of roles are written specifically for white actors—and even when they aren't, white actors are frequently picked over actors of color anyway (see: the recent and well-warranted controversy surrounding Scarlett Johansson being cast in the lead role of Ghost in the Shell). Black performers can't be given awards when the opportunities are simply not there to begin with.
The other part of the problem is that black artists often go unrecognized for their talents and achievements in favor of recognizing white artists, which is unfortunately, very common in practice.  One  example is the fact that in 2014, Macklemore and Ryan Lewis, two white artists, won multiple Grammy awards for best rap album, best rap performance, and best rap song, sweeping a genre that is not only dominated overwhelmingly by massively talented black artists, but also originates from black culture. Black artists are never guaranteed the recognition they deserve, even when it comes to historically black art forms.
Lately, though, people have become less and less willing to put up with artists of color being overlooked. With hashtags like #OscarsSoWhite making headlines, it's becoming apparent that people of color, and people in general, are no longer content to sit by and watch gifted artists of color be sidelined for awards  which they should at the very least be in the running.
The struggle to change the systems that prioritize white talent is arduous but it is a challenge that people across the arts community are more than willing to undertake. Little by little, the push to recognize and create more opportunities for artists of color has begun to bear fruit. In some cases that fruit is vocal and critical backlash against whitewashed casting and a demand for accountability from Hollywood; but in other cases, that fruit tastes like sweet, sweet success.
One such success: this year, all four musical acting awards at the Tonys went to black actors.
The Tony Awards, which recognize achievement in Broadway theater, have reinforced the same uniformity as the Oscars: over 95% of all Tony nominees have been white. While there is doubtless a bias within the judging panel, the lack of recognition for actors of color also stems from the lack of opportunities presented to them on Broadway. This dearth of roles for performers of color is a longstanding problem that has recently begun to change with the advent of several musicals and plays with casts made up predominantly of people of color, such as The Color Purple, Eclipsed, and the one and only Hamilton. Hamilton in particular is an incredible landmark for people of color: a hip-hop musical featuring people of color in all of its leading roles, Hamilton has exceeded all expectations, winning Best Musical Theater Album and featuring a cast album that topped Billboard charts and then went gold.
Three of the Tony awards, Best Performance by an Actor in a Leading Role in a Musical and Best Performance by an Actor/Actress in a Featured Role in a Musical, went to Hamilton stars Leslie Odom Jr., Renée Elise Goldsberry, and Daveed Diggs. The fourth Tony, Best Performance by an Actress in a Leading Role in a Musical, went to Cynthia Erivo, star of The Color Purple. These wins both break and establish a new record.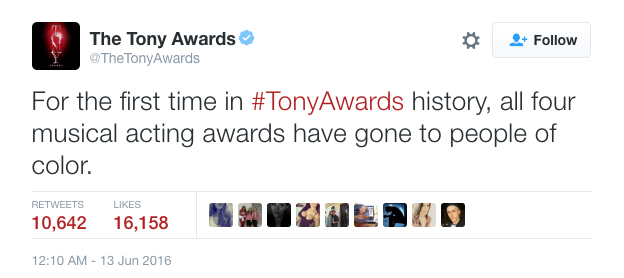 While the push to diversify the arts community and the recipients of big-time awards is nowhere close to over, it's important to take a moment to recognize what this means. Black excellence being celebrated, recognized, and rewarded on a national level is no small feat–nor is it only what it seems to be on the surface.
The success of people of color at the 2016 Tonys was not just an award. It was a beacon of hope, a symbol of change, a promise of new things to come. Think of the myriad implications of this historic Tonys sweep: other actors of color will know that one day their efforts could be recognized; ventures starring performers of color will be more likely to be backed; children who aspire to greatness will have role models to look up to. Hopefully the success of these talented black performers, and the successes of the musicals and plays to which they have given so much, will drive home the fact that actors of color can be—and indeed already are—incredibly successful, talented, and very much worthy of recognition.
By Femi Sobowale
Edited by Victoria Krute
Layout Design by Renita Singleton