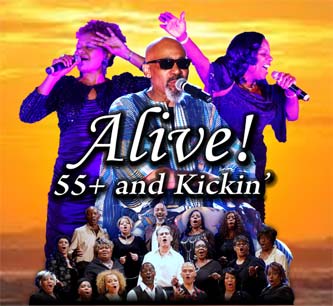 A wise woman will tell you the first 50 years of life is for learning and the second 50 is for living! When you to see the play Alive! Over 55 & Kickin! at the Dempsey Theatre in Harlem, NY you will definitely agree with that statement; and if you are not 50, it will make you desire and anticipate that "coming of age" stage of your life.
ALIVE & KICKIN! is a celebration and exaltation of life thru song that should be celebrated by all ages and not just those over 55.  ALIVE awakens your inner-self, bringing you to a realization that regardless of your struggle or challenge you are going to be alright.  It calls you to celebrate that fact that you are alive!
Vy Higginsen, Founder of the non-profit foundation MAMA (that funds this amazing production) is a perfect example of celebration of life.  Her amazing journey within the entertainment business with music and communication at its core, inspired her to pay forward her love and passion for the arts.  Vy opened the show with a welcome and an acknowledgement for life by having the audience clap for those people in the audience who were in a specific age range.  She started with the 40's, then the 50's, and then 60's; yet my amazement began when she started asking about people who were 70, 80 and even 90 years of age.  To my delight and surprise there were three people in the room that were over 90 years old.  That's when you knew you were about to see something special.  With that one action, Vy had already started you on the journey of being over 55 and kickin.
I was able to get a few minutes to speak with Vy about herself and the foundation and why she does what she does.  In all her beauty and pride she started by telling me her background. A communications and fashion expert, Vy has worked for Ebony, Essence, WBLS, KISS FM and WWRL. However, she prides herself as being an expert on the black consumer market.  She continued by explaining that she started writing these shows on the experiences of African Americans using music because music is her background.  She continued by stating that some of the greatest artist of all times and genius musical minds came out of the generation that performs in this play.  She stated that she wants to make certain we never forget these great people.  "It's important not to forget the music. I don't want the tradition of what came before us to die. We must pass on the tradition of what came before us which are the amazing sounds and music of our ancestors. Its great to have hip hop and all of the music that exists now, but we must never forget from where we came from and who paved the way.  I am an arts activist. I want to make sure that the arts are always available within our community. I want to make certain our community can enjoy art and theater that is affordable. That is why I do what I do everyday." When asked what the public can do to help she stated (in all her Vy candor), "Call us. We like the telephone, we're still old school. You can email and contact us but it's important to support us. It would be great to have a sold out audience every show.  That means we can continue to give our teens the opportunity to learn the arts for free. Right now we have four plays within our musical series. Be certain to go to the site and purchase a ticket to support the Mama Foundation and the talent that comes here to live their dream."  Vy gave us some amazing advice for success for anyone interested in the arts. She simply said, "Become what you do everyday. If you do even a little bit of what you want to do everyday it makes the transition easier when the door opens because you have been doing it everyday.  Also remember you are never too old to do what you love."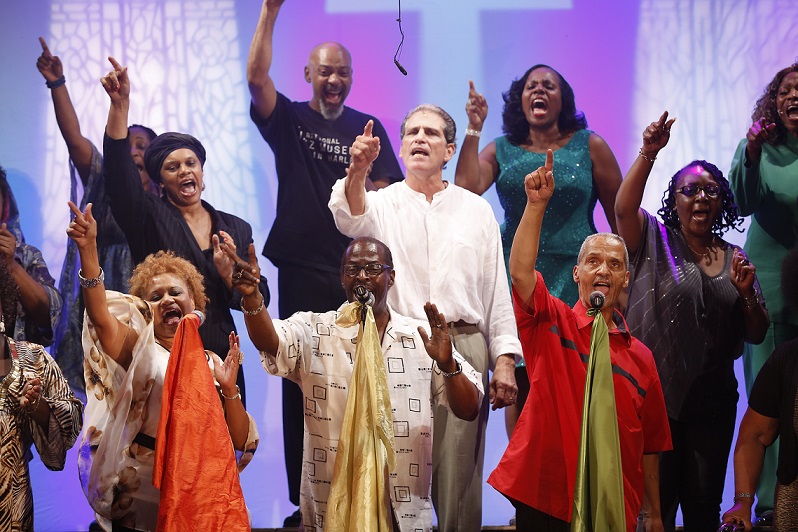 Photo Credit: Carol Rosegg
I also spoke with the director Ken Wydro on how the play ALIVE came to life.
Alive came about through the audition process.  MAMA always has constant auditions. For the past couple years, Ken and Vy have seen people in their 50's, 60's and 70's audition for roles that were cast for younger people. During the audition process they would ask them [auditioners] to tell a little about themselves.  That's when Ken and Vy noticed that there was another age group that needed attention and had stories to tell.  Ken explains, "Alive came out of open auditions. We developed the show out of the stories of the people that came to audition for us."  Casting an older cast is not traditional within the entertainment business. When asked what would he say to those that feel the industry is for younger actors Ken stated, "There is a whole treasure chest of stories and experiences that people who are older possess.  A lot of times as they get older and overcome challenges there exists a greater appreciation for life and what the process is for them. What we have found working with this older group of talent is that the level of compassion in them and the level of emotion that these songs release in the audience is really tremendous. So it turns out to be a healing event.  It's not just going to a play and hearing a story; it's feeling the story and feeling better when it's done.  The cast exemplifies an ideal to the audience that if they can do it up there then I can do it here."  He ended our conversation by stating, "People should come to experience ALIVE for a very simple reason; it's their story.  It's a combination of church and theater that is entertaining, exciting and healing all in one."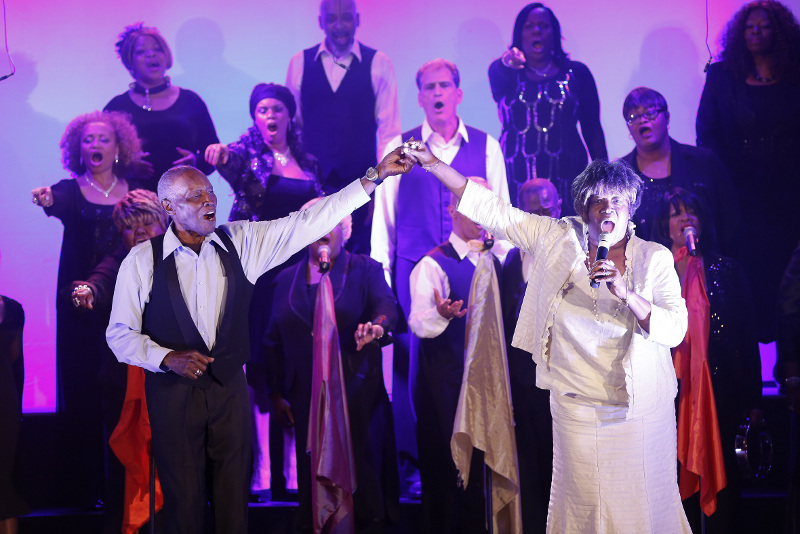 Photo Credit: Carol Rosegg
Gregory Kelly, the music director for Alive who also works at the Mama Foundation, expressed that his interest in the project was his desire to do something for the more seasoned talent. "They came with their story and my job was to put the music to the story.  Being old school myself and knowing old school music, I just wanted to bring songs to life," states Kelly. The relevance between the story and keeping the audience entertained is a challenge for any musical director.  Gregory is the music director but he also did all of the musical arrangements. Right from the music pit he played the keyboard, gave direction to the band and vocal direction to the cast all at the same time.  His work alone within this wonderful production is a sight to see and something you can truly appreciate as musical art. On cast and teamwork Gregory had this to say, "For this to be a successful production, arranging the vocals as well as giving direction over the music parts, I needed a team that could work together; I needed a team that could listen, follow cues and direction. It was a challenge because some of them have never been on stage before. Our cast were people who had wonderful voices and wonderful stories, but to be on stage and follow direction was something very new for a lot of them. I'm proud to be a part of this production because everyone worked together for it to be a success."  Gregory is not a stranger to the music industry.  As a songwriter he has written for various artists including Angie Stone, Stevie Wonder, Kenny Latimore, Lenny Williams and Hezekiah Walker, for whom he says,  "Two of the songs on his [Hezekiah] Grammy award winning album I wrote.  My advice is stay to it.  Do what you know and do what you do. I grew up doing Gospel and to me gospel is the root of all music. Gospel has literally taken me around the world.  So my advice to anyone is stay humble, stick to what you know and what you love and GOD will make room for your gift."
Quotes from Cast members:
ALIVE! I survived, 40 years in jail and found the love of my life. I survived a massive heart attack after being a dispatcher for 9/11.  I survived the pain and heartache of  lossed love.. I survived! I am ALIVE!  I have a vision.  With its wonderful wardrobe, exhilarating music and amazing voices ALIVE! is ALIVE! Over 55 and Kickin!
Click for tickets