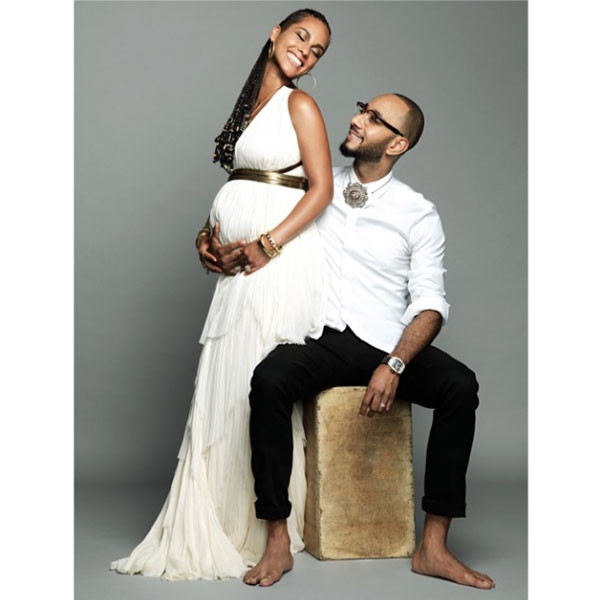 Alicia Keys gave birth to a healthy baby boy on December 27, 2014. Wow. I can't think of a better belated Christmas present than a new baby! The Grammy winning singer-songwriter shared the good news with fans via Instagram. Keys and rapper-producer husband Swizz Beatz (real name Kasseem Dean) decided to name the newest edition of their family Genesis Ali Dean. The post also revealed that Genesis was born at 1:52 a.m., and weighed in at 6 pounds, 5 ounces. Their first child together, Egypt Daoud Dean was born in 2010. Swizz Beatz has two other sons (Prince Nasir and Kasseem) and a daughter (Nicole) from previous relationships. Keys announced her second pregnancy back in July, on her fourth wedding anniversary with Beatz. Congratulations on the newest addition to the Dean family!
As a singer, songwriter, record producer, and actress, Alicia Keys is definitely one of the best artists to come out of this new millennium. In this day and age, real honest-to-goodness talent in the music industry is indeed a rarity, and Alicia Keys is a breath of fresh air. Keys released her debut album (Songs in A Minor) with J Records in 2001. The album was a commercial and critical success, selling over 12 million copies worldwide. She became the best-selling new artist and best-selling R&B artist of the year. The album earned Keys five Grammy Awards in 2002, including Best New Artist and Song of the Year for Fallin' (amazing song by the way, one of my all-time favorites) becoming the second American recording artist to win five Grammys in one night. Her second studio album, The Diary of Alicia Keys, was released in 2003 and was also another worldwide success, selling almost ten million copies. The album garnered her an additional four Grammy Awards in 2005. Later that year, she released the excellent live album, Unplugged, which debuted at number one in the United States.
Keys has made guest appearances on several television series and movies throughout the decade. Her third studio album, As I Am, was released in 2007. It sold five million copies worldwide, earning Keys an additional three Grammy Awards. She released her fourth album, The Element of Freedom, in December 2009, which became her first chart-topping album in the U.K. Her latest studio offering Girl on Fire was released in November 2012, and became Keys' fifth chart-topping album in the United States.
Throughout her career, Keys has won numerous awards and sold over 35 million albums and 30 million singles worldwide. Billboard magazine placed her number ten on their list of Top 50 R&B/Hip-Hop Artists of the Past 25 Years.
by Farren Washington