By Tiarsha Harrison
Cover image credit: Artem Varnitsin
A new scientific statement recently released by the American Heart Association identified six pregnancy complications that are warning signs for heart disease later in life, specifically for black women. Dr. Nisha I. Parikh, M.D., M.P.H., Chair of the American Heart Association's scientific statement writing committee and associate professor of medicine in the cardiovascular division at the University of California at San Francisco shared her knowledge and expertise on the matter. Annette Lartigue, Ambassador of Know Diabetes by Heart, a partnership between the American Heart Association and American Diabetes Association, was first diagnosed with gestational diabetes that soon after developed into type 2 diabetes which is common for most women. We reached out to these two dynamic women to learn further about their thoughts on the disparities, risks, complications and prevention recommendations.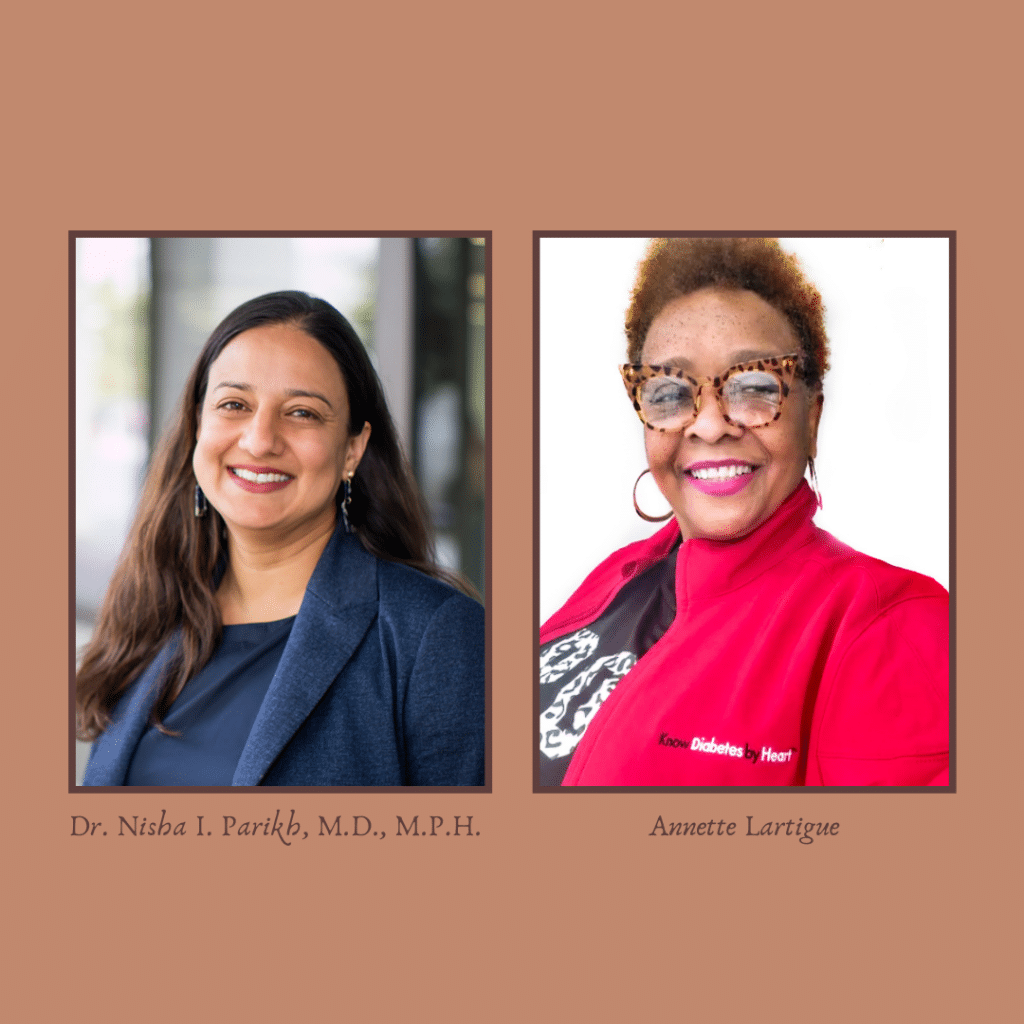 What are some risk factors for black women when it comes to pregnancy?
Dr. Parikh:
Black women are at high risk for most pregnancy complications that are related to cardiovascular disease but only a small proportion of that risk is from increases in blood pressure. Still, I think it is important for Black women to be aware of their BP, ask their Ob's questions, and Black women should monitor their blood pressure- if they are able to it may be a good idea to get a blood pressure cuff at home to make sure your BP stays in the range recommended by your Obstetrician. Reducing stress and anxiety is also really important.
What are the six pregnancy complications that are warning signs for heart disease later in life?
Dr. Parikh:
high blood pressure during pregnancy (including preeclampsia and gestational hypertension)
gestational diabetes (diabetes in pregnancy in a woman who never that often resolves after delivery)
preterm delivery (delivery before 37 weeks)
small-for-gestational-age delivery (a baby born small for their gestational age/weeks at delivery)
pregnancy loss (more than one miscarriage and stillbirths)
placental abruption (when placenta separates from uterus)
What were some of your pregnancy complications that led to heart disease?
Annette Lartigue:
I was diagnosed with type 2 diabetes after being T boned ( car accident) at an intersection when I was 6 months pregnant. I was not aware that I was predisposed to diabetes and until the accident, I did not know I was suffering with gestational diabetes.
I knew my mother had " sugar" but there was no real education or real discussion. about it until my diagnosis. Due to the lack of education and discussion surrounding my mother's health I did not think about diabetes at all prior to my pregnancy. I should mention I thought my diabetes would go away after my pregnancy…
It didn't. The car accident changed my life in many ways but most of all it alerted me to my condition and helped me take better care of myself and my unborn child.
The turning point was when my father suddenly dropping dead from a massive heart attack. He was never predisposed with heart disease or diabetes. It scared me.
A good Doctor changed the game for me in terms of my health care. He was patient and committed to working with me in a way that no Doctor had ever done before. He made me believe he care about me. He said, "We can do this." He didn't scare, intimidate or demand. He showed me how to take care of myself.
What is your testimony of overcoming your diagnosis?
Annette Lartigue:
I don't lecture others. When the opportunity presents itself, I tell my story clearly and succinctly. I encourage them to find a Doctor that will listen and guide in truth and compassion. The doctor's bedside manner matters. An honest desire to take care of yourself matters more. We don't always get it right…we just don't stop trying! My mantra is…I will never give up on self care. Nobody can help me better than me. I'm in it to win it.
Know Diabetes by Heart (The American Heart Association and American Diabetes Association's joint initiative) has been a blessing in that they have helped me see more clearly and connect the dots regarding heart disease and diabetes.
Rarely does anyone connect the heart to the pancreas/diabetes. The Know Diabetes by Heart ambassador program has helped me share my story, experience, strength and hope in a way that reaches people. I want people to know they can and will live with diabetes if they are willing to give their heart and pancreas a chance. No horror stories, just a human one.
What are the prevention recommendations for the six pregnancy complications?
Dr. Parikh:
Get your blood pressure, cholesterol and diabetes screened after pregnancy (at 6 weeks, 3 months, 6 months and 1 year after your baby is born)
Breastfeeding can decrease Mom's risk of cardiovascular disease
Eat a heart healthy diet
Increase movement/ activity
Stop smoking