by Christely CL Jean
Photos courtesy of celebrity photographer Dionn Reneé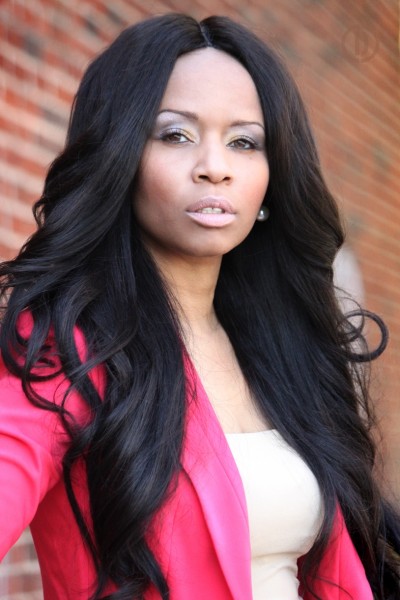 If you were to take a look at Chantel Motes you would be one of many to think that the woman looks phenomenal.  You might even believe her to be a shoe-in as a contestant on America's Next Top Model.  She passes the eye test, has all the right features, the attitude and the style. Yet it's only after listening to her that it dawns on you how hard pressed you would be to find another Model with a better head on their shoulders or more ambition for success. After spending some time in conversation with Chantel you realize that she is more than she appears. At age 43 most women are falling into the driver's seat as full time mothers, grandmothers, and businesswomen. So it only makes sense that this mother of three and grandmother of eight is stepping out and grabbing the modeling world by the horns and chasing the dream that she's had since she was a young girl. I had a phone conversation with Chantel Motes for Bronze Magazine a few weeks ago and here's just a tidbit of what she had to say:
Chantel I just wanted to confirm your age for me, because IÂ  understand that you started modeling at age 40?
I am 43 years young, but I started modeling at 41.
Where are you from Originally?
Harrisburg Pennsylvania- born and raised
Wow, that's a pretty bold move at 43, how did you start modeling?
I have always wanted to model since I was maybe 11 years old, but I started my modeling career thanks to a past job.  The field that I was in caused me to be in constant contact with International Model Scout out of Harrisburg, PA.  After working with the agency for some time the head of the agency asked me if I was interested in modeling, So I applied as a Spokesmodel and thus my career began.

What pushed you over the edge and made you realize that this was your time to get into modeling?

I've been through a lot. I had my first child at 16, but I was always a very attentive mother. I believed in being present in my children's lives, therefore my life had to take a back seat to raising my three kids. Being raised in the projects was the only life I knew, therefore I felt that that was the kind of life I deserved, but having my kids changed my perspective. My son is now 28 and my daughters are 23 and 16.  Now that they are grown I feel that I have more time to follow my dreams.
When did you realize that nothing would stop you from modeling?
It happened in my 40's- I had just driven 6 hours to Cleveland Ohio to an audition and waited in line for 4 hours with rain and wind. I am just that thirsty and hungry for my success and when God is willing to move for you He will but we are in charge of our own destiny.
How would you say living in the Projects has affected you and transformed you as a model?
In 1997 I moved out of the projects. After having my children I realized that there was more out there than that way of life.  I move into a home that I was buying for myself; sadly enough I went through a lot in that house, yet all the hardships helped me show my kids, "You never know what you're going to go through in life, but you have to poke your chest out and go through."
Where has Modeling taken you so far?

I have been blessed in every modeling job that I've gone for including Atlantic City Fashion Week and Harrisburg Fashion Week. Everything I auditioned for I always seemed to land a part, even though it wasn't always the part I was going for. I'm thankful and grateful for that.
Where do you draw your inspiration? What keeps you pushing?
I draw my inspiration from what I've been through and from my kids. As a child I wanted to be in any and everything, whether in school or the neighborhood. It's one of the many reasons I won Miss Ebony 84.  I'm raising my daughters the same way; I push them to try wholesome things so they experience the fullness of life.
Listening to you, you seem to be a woman of faith. How does your faith play a role in your success?
I believe my faith is what connects me to a higher power. I step out on faith. I would kneel down next to my bed when my kids were playing or in the other room and thank God for His blessings. God sees the love I have in my heart through my actions.  I'm a helper and a caretaker and through my actions I know God sees the good and He pours out His blessings on me.
What has been the feedback to your modeling?
People have said, "Your too old to be modeling, or your to old to be acting," People just don't realize that you're not aging backwards. The younger generation are usually the people who seem to see this but the reason they say these things is because their dreams are not half as big as mine, I hope they have as much ambition as I do at my age.
Where do you see yourself and your career in five years?
I believe when I rise my family rises. I see myself being so successful I can't run my business myself because my schedule for movies and modeling are so booked. I see myself doing a lot more outreach in shelters and the YMCA, reaching out to women who are in situations similar to mine in the past.
As a mother, what do you say to other mothers who feel they can't live out their dreams because of motherhood?
Don't give up on your dream(s).  If your circumstances don't allow it now wait until your kids are older and then pursue your dreams to the fullest. Don't let anyone take away from what you want to do. Surround yourself with people who have similar dreams or those that have even bigger dreams who help aspire you towards greater heights.

What advice do you have for the younger generation?
Take life easy and try not to live in the fast lane.

What do you mean when you say the fast lane?
I know a lot of young men and women who let promiscuity and drugs take over their life; it's a prominent sight in Harrisburg. I would tell them to have a plan take some time to be children, you'll be adults your whole life. I can testify to it in my own life having recently lost a son to that sort of life.

Where can we go to see more of your work? is there a website or blog that we can look up?
People can see more of my work on www.thejblairbrown.com. My Fan page is "IamChantel" on both Facebook & a site called Backstage.