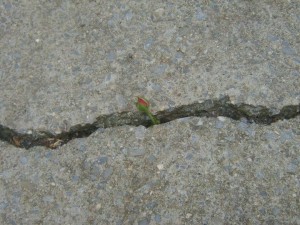 One of my sisters shared this photo with me and it immediately spoke volumes to me. As I looked at it my creative juices started to flow. My mind started to race as the tears began to fall, because this picture reminded me so much of myself. As I stared at that rose all I could see was a little girl growing up in an environment that was not conducive for life to grow in; an environment that was not cultivated with nourishment; an environment designed to smother dreams & possibilities; an environment that so many young women grow up in and have to fight their way through.
But just like that rose we push through those hard places in life. We fight through the oppositions and we break the boundaries and we blossom against all odds; because when God has predestined you to be, to do and to go there isn't an environment dire enough to stop the plan of God. When you are a child of destiny and purpose you flourish, you bloom, you blossom, you come forth even in hard places. So it doesn't matter if you were planted in a healthy environment or an unhealthy environment you blossom right where you are, because as the song says "A ROSE is STILL and will ALWAYS be a ROSE."  Even if it has to GROW against all odds. 
NOTHING CAN HOLD AÂ GOOD ROSE DOWN!
By: Phaedra T. Anderson