By Henna Choudhary
Afaf Seyam, 27, is the founder and creative director of Heurueh, an inclusive, cruelty-free brand that launched in Japan in 2015 and later gravitated to the United States. Since its launch, Heurueh has been featured in Vogue, Coveteur, R29, PopSugar and Elle Japan and can be found in contemporary and luxury stores across Europe, Asia and North America. Heurueh shapes its seasonal collections to reflect positive affirmations and ironic symbols that play on the transient social climate: a faux fur coat is stamped with "Real people, f*ux fur" on the back and a varsity jacket has "Not a public figure" printed across its back.
"I'm an Egyptian-American Muslim," says Seyam. "My mom is a creative diva. She has a dramatic sense of style and loves to make things herself; she got her master's in textile engineering. My dad is a professor of textile engineering. I have two older brothers; both are engineers and following the family footsteps. I'm the black sheep."
Seyam's love for fashion design stems from her childhood days of playing with Barbie dolls, when playtime extended beyond simply dressing her dolls with the accessories placed in the store-bought boxes.
As a child, Seyam was constantly bored and craved newness, so to remedy the monotony of playing with the same dolls everyday she would fashion new clothes for her Barbies out of handkerchiefs, by either sewing or taping together materials. To further spice up her Barbies' appearances, she'd also chop off their hair and erase their faces with nail polish remover, after which she'd draw on new features with ballpoint pens.
Her love for eclectic fashion was further ignited by watching her mother work on creative projects, which sparked Seyam's adolescent dream to be a fashion designer. Her mother created many of Seyam's clothes by hand and is known to be a maximalist with a head-turning sense of style, which Seyam says challenges her to push boundaries when brainstorming sketches and creating designs that are out of the ordinary.
"I think because I'm a Gemini I have two halves, one that's dramatic and another side that's chill," says Seyam. "I think being able to design and style faux fur pieces that are innately dramatic into a casual everyday piece speaks to my two sides. I don't want my work to scream brown or Muslim, I want to create something inclusive and vague enough for different types of people to be able to relate to."
Seyam dived into the fashion industry by working in retail and interning for local designers throughout high school, which led to an internship opportunity at Ralph Lauren Black and Blue label the summer after her freshman year at North Carolina State University, where she studied textiles. This internship offered her insight into the makings of a successful fashion company, which planted the seed for Heurueh.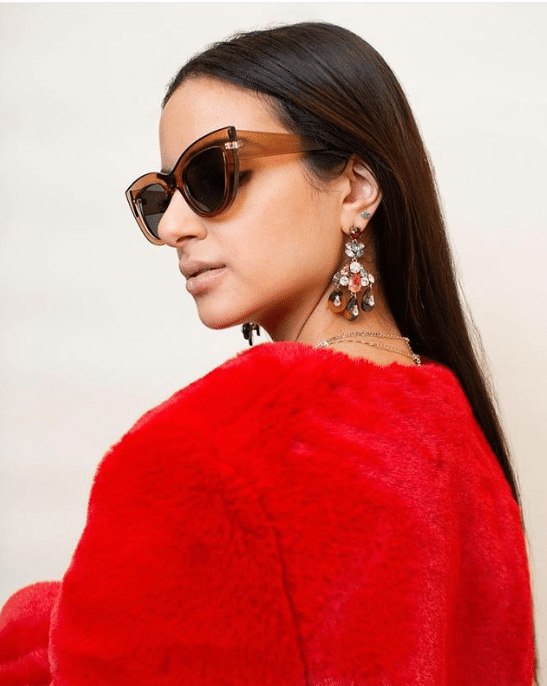 "I didn't want to start a brand without some kind of positive message," says Seyam. "At the time I started, I was vegan and wanted the brand to have the same message. I don't support the practices in today's farming and production industry because they aren't motivated for balance or health, so much of it seems to be motivated by greed."
Seyam's dedication to ethical and accessible alternatives for traditional genuine fur clothing has garnered an international clientele.
"Being Russian means wearing fur from the day you are born," said Sonya Blade, a tech CEO and actress, who is one of Heurueh's top consumers. "However, being Russian in America means the PETA organization is after your mink furs that your grandmother and mother passed down to you. When I first discovered Heurueh, I immediately fell in love with the fun vibrant colors and designs that not only stood out but were faux! Afaf cares about the world we live in, the environment, its people and animals."
Moving forward, Seyam aims to branch out beyond designing new product categories in her showroom to also network with more up-and-coming minority artists and create a community in which people are more involved and connected by blurring the lines of work and play. She hopes to transform Heurueh into an interactive experience with pop-up shops, allowing fashion enthusiasts and designers the opportunity to meet and join one another's creative journeys.