By Priyanka Hardikar
Lauren Patel, 19, is an actress from Bolton, England who just made her screen debut. She is playing Pritti Pasha in Everybody's talking about Jamie, the film adaptation of the highly acclaimed West End musical of the same name. The musical has been a West End smash since 2017.
Everybody's Talking about Jamie was inspired by the BBC documentary Jamie: Drag Queen at 16, which is based on a 15-year-old boy named Jamie Campbell who just wanted to wear a dress to prom – and show up as he is. But instead of being accepted and respected for being himself, Jamie was rejected by his school and by the society for his dream to be a drag queen. He was banned from prom.
While everyone was telling Jamie who to be, his best friend Pritti was reminding him that ultimately, the decision is up to him. One of the most integral and powerful lines in the film is when Pritti tells Jamie, "Stop waiting for permission to be you."
Lauren's Acting Roots
Lauren's love for acting and singing started from a young age. Though not from an acting family, Lauren was always around theater and films, and felt a sense of community whenever she performed in a show. She fell in love with classics like Mary Poppins – "It was just so British and so magical, with amazing dance numbers," she says, smiling.
Growing up in Bolton, Lauren got to be a background actor in children's shows and the long-running soap Coronation Street. She wouldn't have any lines, but she got to show up, sit in a dress and eat cake all day – like a birthday party. She thought to herself, astonished: "This is a job? People can do that? I was like, why isn't everyone doing this? I thought it was some kind of secret." It wasn't until college that Lauren considered acting as a career. She decided to study performing arts, music – and media, which consists of analyzing film, TV and magazines.
Auditioning and Landing the Role as Pritti
During junior college, Lauren came across an open audition for someone who matched her description. She sent in a tape introducing herself, along with a couple of acting and singing videos. She ended up travelling to London, reading with the actor who plays Jamie – Max Harwood and did a camera test. Twenty days later, she found out she got the part. "I feel like I just blinked, and I was on set," Lauren says. She recalls sitting in one of her classes when her dad texted her the news, rushing to the bathroom and getting in a good cry.
It didn't feel real at first – almost too good to be true. "Before I had shot anything, I was very scared someone was going to turn around and be like, 'Actually no, you didn't get it," she says, so she kept the news private until the trailer was released.
At the same time, Lauren was sitting for her A levels (exams). She would travel to Sheffield on the weekends and learn the dances for the big musical numbers, then return home and study for her exams over the week. As soon as she completed her last A level exam, she moved to Sheffield for three months to shoot the film.
Playing Pritti Pasha
Lauren's goal was to capture the essence of her character, Pritti Pasha. "I adore Pritti Pasha. Just thinking of her makes me smile," Lauren says. "It's lovely to play these characters and think, 'Gosh, I wish I was a little more like her.'"
Lauren describes her character Pritti lovingly – her pure, kind heart, and her empathy. As Jamie's best friend, Pritti is a voice of reason, a constant source of encouragement and an inspiration in his life.
Pritti and Jamie come from two entirely different worlds, but it doesn't matter. They love each other unconditionally, try to understand where the other is coming from, and embrace each other's differences. Their friendship is beautiful and pure and sends out the message that: "Just because you might not understand something, doesn't mean that you have to deny it and push it away from you. If you ask questions and if you learn, then we can all kind of get along and love each other," Lauren says.
Lauren recalls early on, when they were shooting a big scene with a lot of extras, someone pointed out that what she was doing was important and to cherish this moment. "That stayed with me for the entire shoot, and it'll stick with me for my entire life. I feel so grateful to have been able to bring Pritti on the screen," she shares.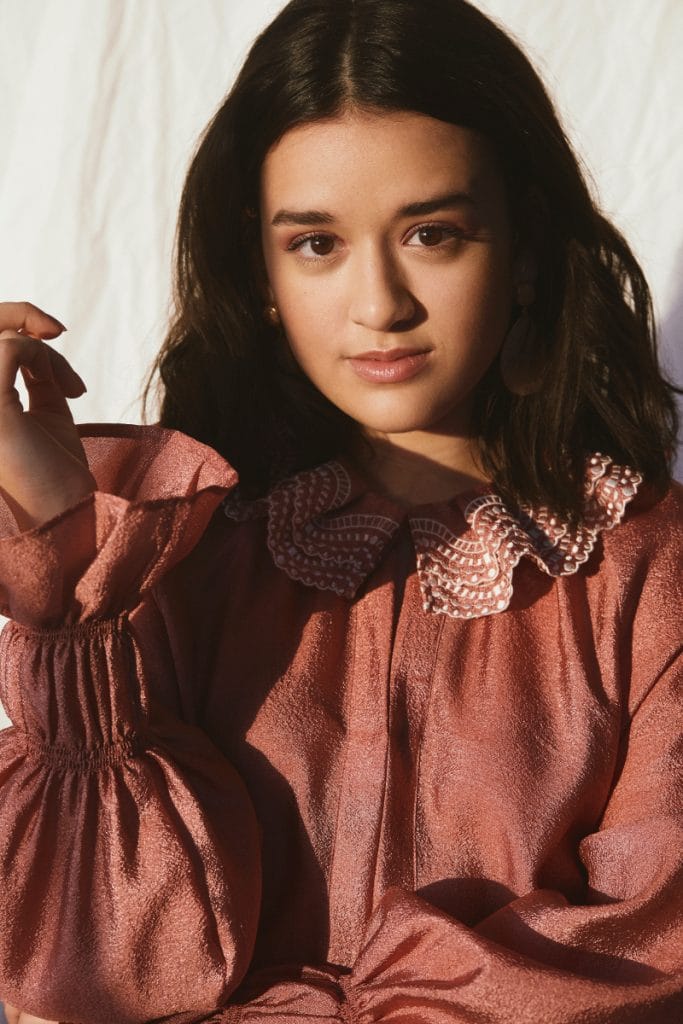 Supporting the LGBTQ+ Community
Lauren hopes that the LGBTQ+ community will watch Everybody's talking about Jamie with their families and that the film will encourage people to ask questions and learn and understand more about the community. Lauren points out that the first step to combat discrimination is to acknowledge that it exists. The truth is that "people are still striving for equality and they're not there yet," she says.
The next step is to not dismiss something just because you don't understand it. Lauren encourages people to take the time and make the effort to research and learn more – "Before judging an entire group of people who are really just like you." With the internet, these resources are only a click away.
"You shouldn't be afraid to ask questions. At the same time, it shouldn't be the LGBTQ+ people's responsibility to educate every heterosexual person on why they deserve basic rights. If you don't know a lot about the community, that's on you to look inside yourself and to research it. People are just trying to live their lives," Lauren says.
Her Love for Acting
Lauren especially loves watching female-led films or films like The Farewell with its amazing representation of different cultures. She admires actors like Dev Patel and aspires to be like Florence Pugh and Tilda Swinton – the kind of actress that transforms every role she plays. Playing Pritti, Lauren understood the importance of her character – both in film and in musical theater. "I had to make sure I was doing what felt right to me and what felt right to the story and trust that it resonates with other people once it's out," she says.
As an actress, Lauren admits that she doesn't want to box herself in – that she is trying not to put any pressure on herself to be a certain way or play a certain type of role. "I'm just me. I'm just my own person and I'm just trying to carry on," she shares.
Lauren loves being on set and getting to know the characters she plays. "You get to know them inside and out and then you have to say goodbye to them when the filming is done and that can be quite sad sometimes. I'm just really excited to embody someone else – no matter who they are – as long as they have a little bit of spirit to them and a little bit of fight to them," she says.
With any new role, Lauren will learn her lines as soon as possible so by the time the filming starts, they're in her body and she isn't actively trying to remember them. She kept a private notebook about Pritti Prasha, noting little details to make her a complete and real person.
With any new character, she will ask herself the following questions: What films would they like? How would they walk and talk? What would they think about? Who are the other people in their lives and who are their role models? For Pritti, she wanted to understand her biggest inspirations, and how she feels about her life and herself. Who is Pritti outside of the words on the page? The fun and joy of acting is that "Pritti can be whoever I want and whoever I need her to be," Lauren says.
The Film and Dealing with the Pandemic
For Lauren, the best part of the film was, by far, the people – the time and effort they all spent creating this final product. "Whether I can celebrate it with every single person I love in the same room or I'll have different phone calls with all of these people one-on-one, I'm just really excited to have this story out in the world. We've put so much love into it and I'm excited to share that with people," Lauren shares.
When filming ended in 2019, Lauren for the first time in her life wasn't in full-time education. By the time the pandemic started, she had established a flow to keep her mental health right, making sure to eat enough, and get enough exercise – "the little things you can forget when you're inside all day," she says. Aside from baking every type of cake during lockdown – mini carrot cake being her personal favorite, Lauren has learned to make self-care a priority. "Even if it's something small like doing my nails and watching a Youtube video – it's time that's for me and not for anybody else," she says.
The film was supposed to be released in theaters in 2021 but got postponed due to the pandemic. Keep on the lookout for the new release date and connect with Lauren Patel through Instagram or Twitter.