Don't let her youthful looks fool you.  Writer, Director, Producer and Actress Ebony J Lewis is one of the hardest working upcoming young women in the independent film industry.  Born and raised in the North Bronx, New York, Ms. Lewis is a Pace University Graduate, a member of the elite Writers Guild of America (WGA) and a member of New York Women in Film and Television (NYWIFT).  Black Entertainment Television (BET) is responsible for for giving Ebony her start in the film and production industry when she landed an internship there while in college.  Although following the internship she went on to have a successful career in finance, she later decided that it was not for her.  In 2006, Ebony took a risk and jumped full-time into the film and entertainment industry with no regrets.  We caught up with the talented filmmaker for an inspiring conversation about her journey towards success in filmmaking.
BM: Hello Ebony, I am glad to have this opportunity to chat with you. So tell us, what inspired you to become a filmmaker? How did you get your first start in the film industry?
EL: It's a pleasure to chat with you also! I have a lot of inspirations but the very first one was when I was a child, my godfather brought me a lot of wonderful movies on VHS tapes that I would watch one by one. I remember around that time is when I had my first thoughts of being a filmmaker and an actress. I was about 11 years old. I got my first start in the film industry by acting and helping behind the scenes of independent films. Then I got a cool feature in the movie "Notorious" and things just started happening from there. I would shadow the directors of any set that I was on. It could have been main stream or an independent projects whereever that director was I tried to be there learning.
BM: How important is the need for more young African American female filmmakers?
EL: It's very important because it gives a new perspective to filmmaking. I can almost, always tell when a woman has directed a film. There are subtle and sometimes major differences than men directors and both perspectives are wonderful!  Because with art, different is good!  I also think it is important because it shows young girls that they can do anything they want as long as they put their minds to it!
BM: You have been described as one of the hardest working upcoming young women in the independent film industry. What has been one of your greatest challenges in this industry?
EL: Making a film on a low budget and ensuring that it has the quality of a big budget film. Big challenge! You have to get really creative and just make it happen!
BM: You have a very impressive resume, including a 6 time award winning short film you helped produce called Abidjan.  Tell us about your experience working on this film.
EL: Working on that film was wonderful. I learned a lot on the director's side. But I was also the co-producer on it. It was a wonderful opportunity. I worked with actress Liris Crosse, who is also in Truth Unspoken.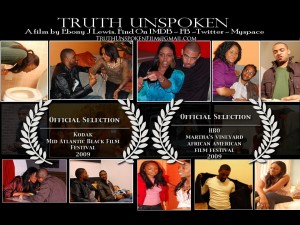 BM: Your recent project, a webisode series titled Truth Unspoken has received rave reviews; having been chosen as the official choice of the HBO Martha's Vineyard Film Festival 2009 and the Kodak Mid Atlantic Black Film Festival 2009.  Can you give us a brief synopsis of the project and describe its impact on the community?
EL: Truth Unspoken is a project about Love, Life, Lies and Choices. There is a huge element of suspense in it because it shows how vital the truth is in any relationship and if it's not present, it can affect far more people outside of your relationship than you think. It's like a ripple effect.  I've had lots of speaking engagements, speaking to young people and adults on the importance of the Truth in a relationship. After we show the film, there is a Q & A after and it is always very successful!
BM: If you could provide another young person (female or male) who is looking to break into the film industry one useful tip or sound advice, what would it be and why?
EL: My advice would be to learn, learn, learn as much as you can and be willing to work for free. Find out about independent films being shot in your area and reach out to them. Once you're on set, be sure to do your job but take as much mental notes as you can. Ask to speak with the producers and directors of the projects. I'm sure they will have time to speak with you especially if you are working for free. Just learn the craft. Taking classes is also a wonderful thing to do and watch lots of movies. I think that is a good start.
BM: What future projects would you like to share with our readers and how can they follow you?
EL: I have a lot of things in the pipeline. A feature film is in the works to possibly to be shot this year. I will continue writing for myself and other people who contact me about their project ideas and I am going to continue to audition and act! I can be followed on twitter: @ebonyjlewis and please follow @truthunspokenws. www.truthunspoken.com
Thank- you so much for speaking with me today Ebony.  You are truly an inspiration for young black women everywhere. We wish you the best!    Thank you so much! J