By Shiri Marawatha
Makeup artist Clari was enjoying her work and making connections in Hollywood until the pandemic changed the course of life.
Clari trained as a makeup artist in New York and is a certified makeup artist. On her job she built hi-profile contacts that helped her establish a thriving career.
"I really did have a lot of fun and met some interesting people. I was a multimedia hair and makeup artist," Clari said. "I began my own Bridal Hair and makeup company."
This networking helped Clari evolve as a multimedia (television, films, advertising) make-up artist.
"I kind of started off just freelancing, I would be hired by different media houses in the Washington DC area," said Clari.
This was her opportunity to learn on the job as well because of the exposure she got doing makeup for all the actors in the production.
"I went on to become a multimedia makeup and hair artist at QVC. And that was really great."
Clari was living her dream working for big brand names and important people in the field.
"Not only was I working with all these amazing brands, I got to meet the owners of these brands. So, you know Molly Beauty, Laura Geller, Josie Maran, I mean, all of the owners of those brands that are very prominent on QVC," she said.
Besides brand owners she had the opportunity to work with professional models and began understanding the business better and was looking forward to a thriving future in the field.
But March 2020 changed everything when the coronavirus pandemic held the world hostage, and the entertainment industry was forced to quarantine. This is when Clari realized she had to make changes and had to figure out her path forward.
"And so, when the pandemic happened, I had to make a hard choice, like, how am I going to navigate this? Is it possible for me to keep working?"
Unfortunately, she had to close the chapter to her successful career as a makeup artist.
"That was a high exposure job for me that I had to make a choice, with my children, for the safety and so I decided to leave that and use some of my other skills that I gathered throughout my career."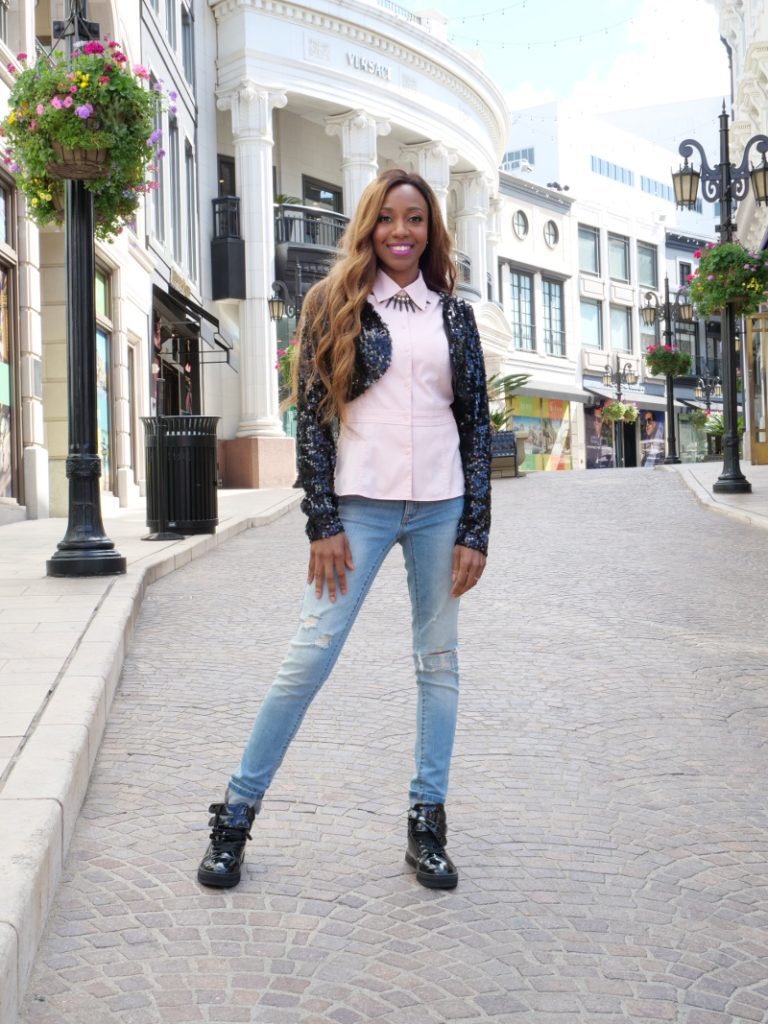 As the old adage goes, 'When one door closes another one opens,' and that's what happened with Clari who enjoys helping people. She started her own Podcast, "Work It Lady."
"[I] Started something that I always wanted to start, which was my podcast," said Clari. "It's a women's podcast, so anything that relates to womanhood you will find on my podcast. It is a little bit of everything that a woman needs to know, especially women who are entrepreneurs and mothers, new mothers particularly."
For Clari, mother of two girls, her passion to help women comes from the way she grew up raised by a single mom surrounded by loving aunts and women supporting each other through tough times and health scares.
"I learned so much about how to navigate life from them," Clari said. "You begin to realize that a lot of the challenges that women face are identical, and that we really can be such a great support to each other."
At her company WIL Nutrition, Clari offers affordable monthly group nutrition, health and exercise classes for women with busy schedules and limited budgets. On her podcast, Clari talks to certified professionals to give accurate advice to her listeners.
"Certified nutrition coaches share some of the things that we really need to kind of work on as women and provide some practical steps to do that," she said.
She took advantage of the pandemic to train to become a nutritionist herself.
"I used the opportunity to pursue another passion of mine, which is to become a certified nutrition and health coach," she said.
To help women achieve independence she talks about business strategies along with possible business ideas using her professional experience along with advice from qualified professionals.
"You learn how to become a good business owner, you learn everything you need to know, to really run a successful business. And so, I like to connect with women small business owners, and I share their brands with my audience," she said.
Clari says the podcast has helped many women in different ways.
"There's one I had recently with my nutrition class, where one of my ladies [who] I'm coaching in my class, she actually has been able to get off of one of her medications," Clari said.
Talking about her future plans she says she will continue to grow her podcast with a focus on the demographic that often gets ignored – teenagers.
"I want to, in the future, add more topics for teenagers, because I think that they are a piece of parenthood and a piece of women who [get] overlooked a lot," Clari said. "So, I want to start creating some more tailored content just for them."
======================================