By Kamaria Mason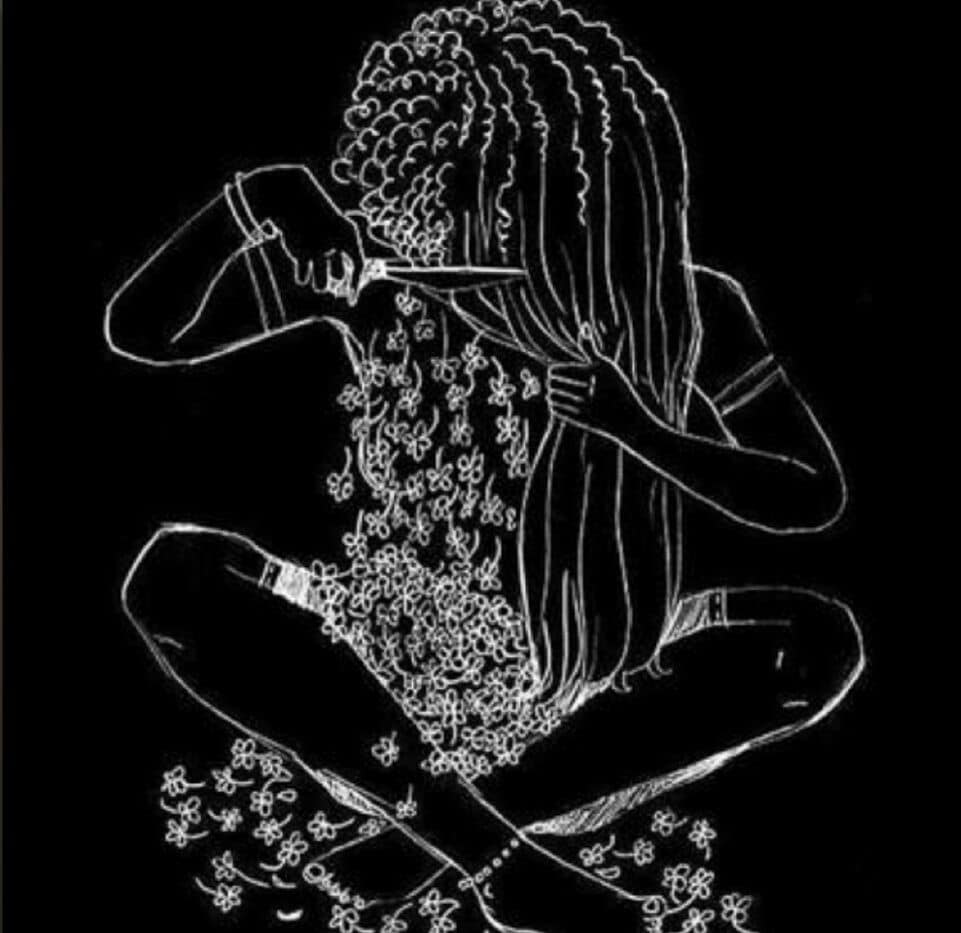 Right now, there is someone staring at their reflection in the mirror. Their heart is beating loudly in their chest as they watch the blades of scissors glide past each other, severing the tresses that connected them to their former life. This may seem like an over dramatization of someone cutting her hair. However, a natural whose journey started with a big chop may have actually felt this way. Within the last decade, the natural hair movement seems to have gathered a lot of attention. This includes discussions about texture, products, styling, effects on careers, and relationships. Although there is a community of people going natural, every person has their own distinct experience.
In an article by Karen Grigsby Bates titled, "New Evidence Shows There's Still Bias Against Black Natural Hair," the article noted that, "The Boston Globe reported that sales of hair relaxers dropped from $206 million in 2008 to $152 million in 2013."
I had the pleasure of interviewing several fabulous naturals who gave their personal accounts of going natural. One interviewee in particular was Niara Walden, a natural of four years. She shared this about her journey: "It's been about 4 years now. I began going natural in July of 2012. I chose to grow out my natural hair without doing the big chop. I learned to do hairstyles that would blend the different textures together. I finally cut the last of my straight hair off in June of 2013."
The critique of black women's appearance is not a new occurrence. The media has consistently broadcast ideas about what black women feel about themselves. When a group known as Bountiful Hair released the deceptive study titled, "Women with Natural Hair Have Low Self-Esteem," Â it sent a significant number of women of color into an uproar. Many people quickly voiced their opinion rejecting the idea altogether. Although it was later exposed as satirical click bait, it did provide an interesting perspective. A rebuttal to the idea that black women have low self-esteem when going natural was seen in a study documented in Ph.D Teiahsha Bankhead and Ed.D Tabora Johnson's study titled "Self-Esteem, Hair-Esteem and Black Women with Natural Hair." An excerpt from the study stated, "Black women consistently rate high on the measure of self-esteem"(pg92). Another excerpt noted that "researchers have historically found black women to report higher levels of self-esteem and positive body image than non-black women"(pg 94).
Choosing to alter one's physical appearance can be very impactful. This is even more true when it comes to black women who often are targeted in the media about their appearance. When a black woman chooses to change her hair, she is also in a way changing how she wants to be represented in the world. The initial step in becoming a natural is to get rid of processed hair. Some choose to transition slowly. Others make the decision to start fresh removing all of the processed hair at one time. The ladies whom I interviewed shared this about their natural beginnings. Niara and Brittanie Lane chose to transition. Chanel Guidry and Sandra Nelson chose the big chop. Sandra also shared this about her decision, "I did the big chop. I literally set the appointment up. Didn't tell my mom or grandma and just chopped it off. My mom didn't think I was serious until she talked to our hair dresser. It was all gone."
Kaycha Williams chose to use both methods, sharing this about her experience, "I did a combination of both. I transitioned for about 6 months and then I cut off my relaxed ends when I had a mini fro."
Black women are often known for their magnanimous personalities and self-confidence, however, there are instances that break down that tough exterior. An NPR article by Karen Grisby title "New Evidence Shows There's Still Bias Against Black Natural Hair" stated, "some key findings confirm that black women suffer more anxiety around hair issues and spend more on hair care… They are almost twice as likely to experience social pressures at work."
When asked about their initial emotions the first time they chose to wear their natural hair in public, Sandra, a natural of four years optimistically shared, "The first time I wore my natural hair, I was so happy. I always had nice hair but was so quick to be like everyone else in school, I didn't realize how beautiful it actually was. In a sense, I felt like I found myself again."
Chanel Guidry, a natural of three years, bravely expressed, "I was honestly embarrassed because my hair was so short."
Kaycha Williams, also a natural for three years shared, "the feeling I had the first time I wore my natural hair out in public was nervousness. Not really feeling like I looked my best."
Niara Walden's experience was one of new found freedom. She stated, "It felt really freeing, especially since I had spent a year working with two different textures of hair. It felt great to shed the last of my straight hair and it really felt like a new chapter for me."
Brittanie Lane, a natural for two years, shared feelings of nervousness saying, "I was nervous about how my hair would look. I was scared my hair was going to look really wild and crazy."
Choosing to wear one's hair natural comes with its own set of rules, much like having processed hair does. Instead of buying perms and straightening products, curl activator's, holding gels and moisturizers become necessities. The satirical study, "Women with Natural Hair Have Low Self-esteem" shared this exaggeration for natural hair care: "At this point, I was using a gallon of milk and a dozen eggs on my hair every day to try to soften it."
Depending on a natural's hair porosity and density, they will have a certain amount of product needed to nurture their hair. However, using a gallon of milk and a full carton of eggs on a daily basis is not common. When asked if they make their own products or have a product preference, a majority of the ladies said that they buy their products. Some of the ladies also said that they preferred using Cantu and Ecostyler products.
Niara  added, "I definitely experimented to find which products work best for me but I found that buying products works best for me and my lifestyle."
Sandra shared, "I'm a mixture of home chemist and finding products. It's a hit or miss but when you find something that pops, it's like finding gold." 
Boldly wearing hair that is at times seen as a protest or an act of rebellion is a multifaceted experience. The article,  "Self-Esteem, Hair-Esteem and Black Women with Natural Hair" included this excerpt, "In western African empires, hair has maintained a spiritual, social, cultural and aesthetic significance in the lives of African people, even today in a society where racial oppression is pervasive, black hair takes on a heightened sense of relevance in the development of black girls."(pgp4)
When asked what she learned about herself since becoming a natural, Sandra shares, "Being natural has been a freeing experience. I found the joy of embracing my inner beauty and being comfortable with the hair God has given me. I think that being a 90's kid and always wanting a perm was a rite of passage into adulthood. But once I got to college, I didn't like the up keep of having a perm and really was tired of the whole process in general, especially the burning."
Kaycha echoed a similar outlook, "I've learned to embrace my natural beauty and work with what God gave me." 
Maintenance is the second biggest aspect of being natural outside of the initial decision to return one's hair to its natural glory. The ladies had a variety of answers when asked about their go to protective styles. Niara opted for Havana twists, Kaycha similarly chose two strand twists. Sandra favored braiding styles. Chanel stated her preference for crochet braids. And Brittanie chose a loose bun. All the ladies also agreed about the importance of trimming one's hair, a process that often causes anxiety about losing hair length.  
Going natural is synonymous with the phrase natural hair journey because of its highs and lows. YouTube tutorials can often cause frustration when trying to re-create seemingly easy styles or growing methods. When asked about a particular hair styling fail, Sandra comically shared, "My natural fail was probably the period in between when my hair wasn't long enough to style, but too short to braid. So I tried to use some frizz control….more like OUT OF CONTROL! "
Brittanie also shared her learning experience, "Yes, there's been times when I have put too much product in my hair and destroyed the look because of white flakes. Â I have taken a style down too early due to my hair still being wet."
I concluded my interviews with the wonderful naturals by asking them to share their advice to women just starting out on their natural journey. Niara offered these words of wisdom, "Be patient and respect your journey. Your hair will have its own unique set of needs and challenges. The product or protective style that worked miracles for one person may not be what you and your hair need. There's going to be a lot of trial and error because curls can be unpredictable. I've noticed my hair being affected by seasons, humidity, stress levels; even by the water I wash it while I'm traveling. It'll take time to figure out what works and then it may not work forever."
Kaycha advised," My warning for new naturals is to make sure that they love their decision. I've had family who liked when I went natural and also family who didn't, but it helped to know that it was what I wanted to do and I found ways to embrace it."
Brittanie supported taking chances," I would say play around with your hair and see what works. Also, go to YouTube for inspiration because there are a lot of people there that are in the natural community."
Sandra provided a warning, "I did not use heat for a year and it helps so much!  Deep conditioning is always your friend. Conditioning before shampoo is actually better for you hair. Embrace it!" 
Lastly, Chanel encourages new naturals to never give up.
These ladies are prime examples of the richness in experience of the journey of a natural. They shared common triumphs and learning experiences. Learning to love oneself in the natural state means taking a stand against prejudice and bias. Hair is a dynamic subject because it is intertwined with the black identity and has been throughout history. If you are a natural, newly or ongoing reading this article, I hope these accounts will give you the encouragement to continue on your journey.
Sources:
Bankhead, T. and Johnson, T. (2014). International Journal of Education and Social Science. [online] Ijessnet.com. Available at: http://www.ijessnet.com/wp-content/uploads/2014/11/10.pdf [Accessed 30 Jun. 2018].
D, E. (2015). Satirical Study Claiming Naturals Have Lower Self Esteem Causes Uproar… But Was It a Good Joke?. [online] BGLH Marketplace. Available at: https://bglh-marketplace.com/2015/04/the-satirical-perception-of-black-women-and-natural-hair-too-soon/ [Accessed 30 Jun. 2018].
GRIGSBY BATES, K. (2018). NPR Choice page. [online] Npr.org. Available at: https://www.npr.org/sections/codeswitch/2017/02/06/512943035/new-evidence-shows-theres-still-bias-against-black-natural-hair [Accessed 30 Jun. 2018].