By: Phaedra T. Anderson
I had plans to move a few years ago. I mean, I was ready! I literally packed all of my things. Sold what I didn't want, which was just about everything, and gave my notice to the leasing office in May, which was three months prior that I would end my lease that August, because I planned to move out, go stay with my aunt for a few months and just save some money; because that's how my brain operated at the time. I didn't have to move. I worked two jobs, not because I had to, but because I wanted to and I was willing to just sell all that I had, move in with my aunt for six months, pay my car off, build my bank account up to where I wanted it and just start with everything new. I've done it before, so doing this wasn't unfamiliar to me, but of course I had it in prayer up until the very last minute.
So again, this was my plan and after counting all that I would save by the sixth month it was a very good plan, but we serve an omniscience God that knows all things, and if we commit our plans to HIM, HE will warn us and guide us when our plans aren't the best. So two days before I was to move I got a word that "Moving wasn't a good idea" (Mind you, this was my second warning) and here I am with all of my things packed, money in hand, because all of my furniture was sold and the leasing office was expecting me to vacate the premises in two days and now I get a word "Not to move." I prayed about it and I decided that it was in my best interest to pay close attention to what was being said the third time around. So the next day, I called the leasing office and asked "If I could stay and renew my lease?" and they said "Sure" without any problems. I called the people that purchased my furniture and gave them their money back and with a serious attitude I unpacked my things. Can you believe it? I packed my entire place up and now I have to unpack the same boxes in the same place. I didn't understand why God didn't think that my plan was a good one, but I sure wasn't one to question it and in less than 30 days my aunt went home to be with the LORD. You know, the aunt that I planned to move in with. Which was why GOD sent the word for me "Not to move," because had I moved I would've experienced temporary homelessness and I would've placed an unnecessary, self-inflicted hardship on myself.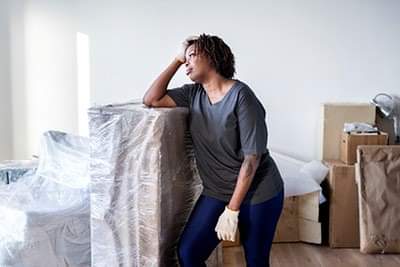 Many times we come up with these bright ideas for our lives forgetting that "There is a way that seemeth right unto a man" (Proverbs 14:12-13) but every way that "seems" right isn't always right and just because it worked for you the last time doesn't guarantee that it will work for you this time. Beloved, I share all of that to say this, "There's a difference between a "GOOD" move and a "GOD" move and although we may plan our moves in life….always remain flexible and allow GOD room to change your "GOOD" plan at any GOD given time."
~ Many are the plans in a person's heart, but the LORD establishes their steps ~ Prov 16:9 #HandmaidenOfTheLord #DaughterOfTheKING #Titus2Woman #iAMtheEVIDENCE