By Farren Washington
Photos courtesy of The Virgin Hair Fantasy
Powerhouse entrepreneur, hair stylist and coveted wigmaker Jane Oriahki Harris is making waves in the beauty industry. The Atlanta native is a go-getter and a hustler who understands what it takes to be successful. Harris grew up in Nigeria with hard working entrepreneurial parents, whom she watched sell a wide variety of goods to support her and her four sisters. She studied business management and marketing in London for two years before deciding to finish her degree in Atlanta. After college, Harris got her start in the retail world, moving quickly up the ladder from sales associate to management. She spent 15 years in the business learning valuable skills that she still applies today. Having both a creative and analytical mind allowed Harris to seamlessly transition from hairstylist to product manufacturer.
It was during her days in retail that Harris began crafting custom wigs as a way to combat her challenges with hair growth. Not one to shy away from bold colors or trendsetting haircuts, she would switch up her look with new wigs on a weekly basis. Unsatisfied with the quality of hair care products, she was determined to build a business that met the beauty needs of black women everywhere. It was then that The Virgin Hair Fantasy (TvHf) was born.
The company develops and sells wigs, hair extensions, and hair care products via their website. With only $200 to invest, Harris and her husband Ed (who launched the company in 2010) strived to create "the most natural-looking wigs on the market." Their virgin hair offerings are both durable and versatile. Textures include: Straight, Body Wave, Curly and Wavy. Their line of hair care products, ranging from serums to deep conditioners work very well with the Perucas and hair extensions. All hair care products are proudly made in the U.S.A.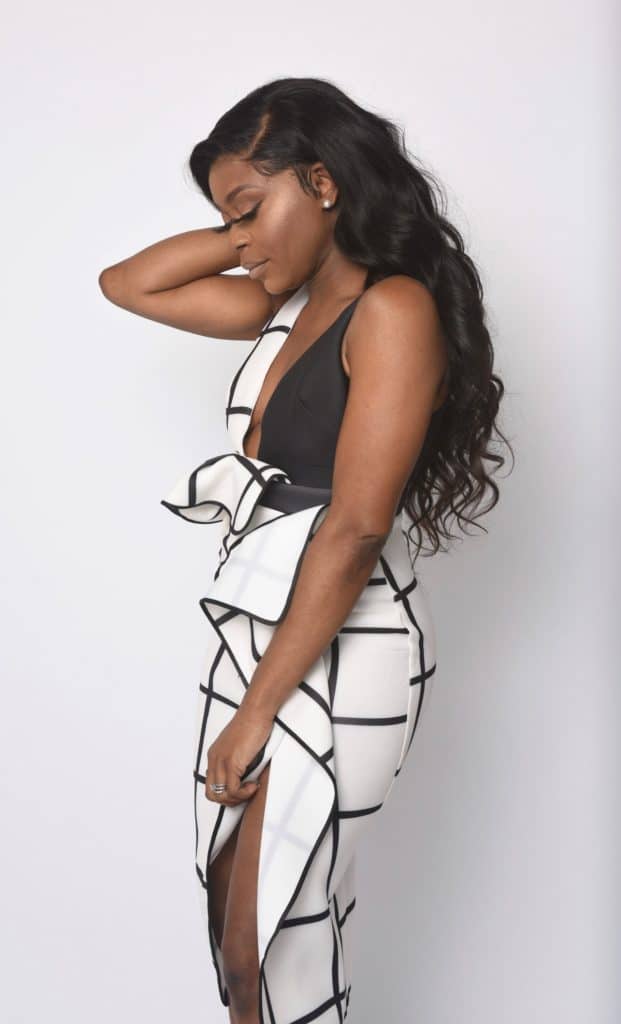 What influenced your desire to work in the beauty industry?
Quite simply, to solve a personal hair problem. I didn't feel like myself in certain styles, and was determined to create something I felt both confident and comfortable in. Wigs were my way of doing just that.
What are some hard truths you have learned to keep you going in your business so far?
As an artist, it can feel like you want to create things on your own terms. You want something unique to put out into the world. And, if it's not innovative, you don't feel like it's yours. Sometimes all it takes is improving upon an existing idea. You don't need to reinvent the wheel or create something new and fresh. Even if your product is like another person's, the fact that you came up with the idea independently is still valuable.
What does a typical workday look like for you?
A typical day for me consists of waking up, praying, exercising, and writing gratitude and to-do lists. After I cover all those bases, I begin my workday by checking company emails. For me, emails are how I gauge the pulse of my business. As Creative Director, I am open to hearing compliments, concerns and complaints, constructive criticism, and potential solutions to problems. Based upon the feedback, I reflect on whether to make changes. After answering emails, I move on to more creative endeavors like advertising. Then it's time to put on makeup and a Peruca to create new content such as photos, short form videos, long form videos, etc. for the website and social media accounts.
Where do you get your wig ideas, and what's your creative process?
When we first started the company, I would try to recreate and sell popular looks, including what celebrities are currently wearing. Eventually, I realized the process was limiting. Some of the styles just didn't fit in with my overall brand. From there I decided to take a risk on creating styles that worked for me. For example, I would see a style in a movie from the 60s and 70s and decide to try it. Then I would go to my little creative space (the bathroom) and begin to play with the look. When it was finished, I would put it on, post a picture online and see if my clients loved it as much as I did. Sometimes I wouldn't go with the most popular response. Other times if I loved it, I would just keep the style the way that it is. Ultimately, I must be able to sell it because I like to sell from a place of truth. If I'm not comfortable or feeling my most confident in a Peruca, it won't come across as genuine.
What are your thoughts on using wigs as protective styles?
I love that! Wigs are an excellent way for you to protect your hair from heat and chemical damage. You get the opportunity to tuck your natural hair away, keep it moisturized and change up your look. It's a win/win.
Do you have any exclusive wig secrets that you can share with us?
A lot of people have this misconception that you don't have to do anything other than take the wig out the box, put it on, and that's it. But there's more to it than that. You also need to know how to properly style your wig as well. The big secret about wigs is how to make them look good. You need to put in the time to do that. If you're a wig wearer, you have to make the effort to learn how to make your wig look it's best. Things like styling the baby hair, making the scalp look natural and where to part it. It's a wig, but you don't want people to know that right away.
What are the risks of wearing wigs?
The number one risk of wearing a wig is potential damage to your natural hair. For example, if you wear wigs that require glue, make sure you're not allergic to the ingredients. If your wig has combs, you want to anchor them to your hair in a way that causes the least amount of damage. You also need to learn how to remove them properly. You can't just snatch them off your head and expect no harm to come to your hair.
What are some beauty, health habits that you would recommend for flawless skin?
The best advice I can give would be to moisturize, moisturize, moisturize. I love using natural, organic oils that have unparalleled healing and hydrating properties. I saturate my face with them morning and night. I do wear makeup whenever I go into the office, but I make sure that I cleanse my skin after every shoot and moisturize with the oils I mentioned, to keep my skin flawless. Going vegan has also done wonders for my skin. I've noticed that it's significantly smoother and my complexion is brighter.
Although many salons nationwide are now fully open or have partially opened, many women are still hesitant to return to their normal beauty maintenance routines due to the continuous threat of the coronavirus pandemic. Indulging in self-care through beauty and grooming can do wonders for one's mood (and self-esteem), so Harris offers some helpful tips on how you can take care of your hair color and wigs while at home.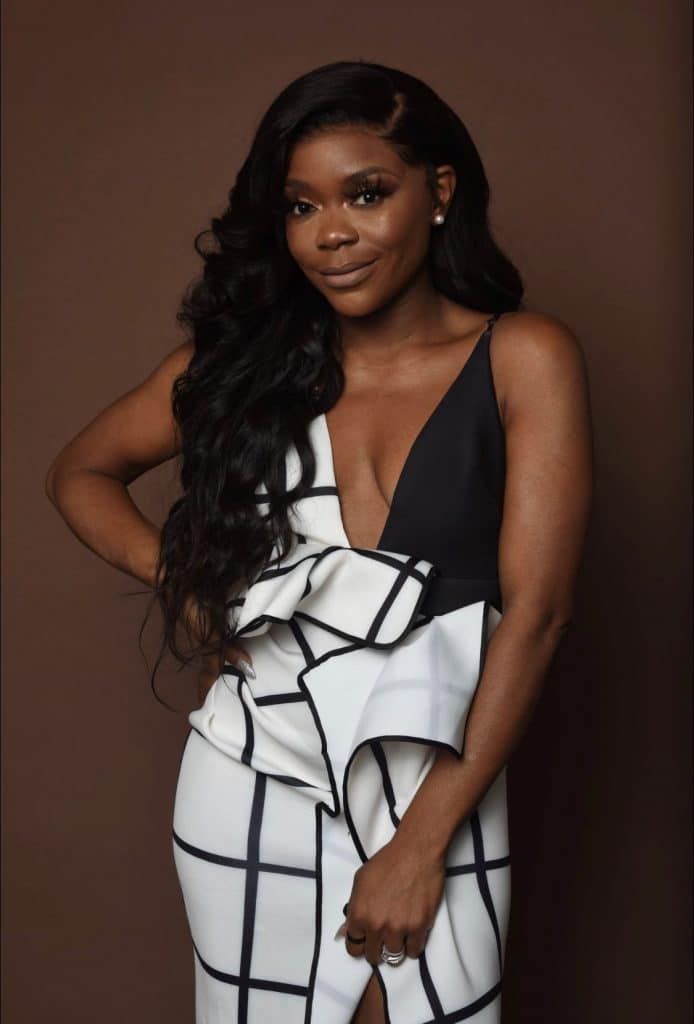 HAIR COLORING INSIGHT
If you've decided to color your hair at home, do it with a plan. Knowing what color process you need to undertake and what supplies you need is the difference between all systems go, or a hard no.
* Coloring the hair is a chemical process. There are numerous methods of coloring the hair.
* All over color is an easier process than highlighting, lightening roots or balayage. If the color process involves bleach, timing and observation of color change are key to success. One minute can make all the difference between a successful or unsuccessful color job.
* If you know the name of the process, search YouTube for video reference. Watch the video all the way though to see if you like the finished result. If you can find videos from the hair color company, even better.
* Designate the space where you plan to color your hair. Set up all the supplies you need. Enlist help if it's safe to do so.
* Wear clothes that you're okay to get color on. Stand in front of a mirror. Place a protective layer, of petroleum jelly around the hairline. Divide the hair into sections and begin. Work slowly, and near a sink in case you need to wash your hair quickly.
* Permanent color remains on the hair until it grows out or is cut off. Permanent hair color also alters the hair structure. Semi-permanent color deposits on the hair for a short period of time and washes out gradually.
* Whatever you decide to do, approach it with confidence. If you can get in touch with your stylist, ask them to walk you through it. Do not commit to anything too drastic, and you'll be fine.
REVIVING YOUR WIGS
If you've ever thought about reviving an old wig, then now is time for its debut. Revive your human hair wig with these simple steps.
* Detangle your wig. Using a wide tooth comb, or detangling brush, remove any tangles. Work from the ends up in small sections.
*Wash the hair. Once your wig is fully detangled, it's time to wash the hair. Wet the wig and apply shampoo along the length of the hair. Work the shampoo through the hair by squeezing from root to ends. Massage the hair very lightly to distribute shampoo, careful not to tangle it. Rinse the shampoo out.
* Deep condition. After the hair is clean, apply conditioner. The Virgin Hair Fantasy hair softener removes tangles, making the hair manageable and easy to comb. Apply the conditioner the same way you did the shampoo. Leave whatever conditioner you choose on the hair for at least 10 minutes. Rinse conditioner out and squeeze the hair dry with a towel.
* Dry. Allow the hair to air dry by placing it flat on a towel. Comb through the hair once more. Place any parts you desire, in the hair, or leave them out.
* Style the hair. Once the hair is dry, style as desired. Add curls with a curling iron or wear hair in it's natural state. Put the wig on while styling for best results.
* You're all set. You've revived your new wig! Wear it at your leisure. Store it on a mannequin head or the bedpost, or a bottle of shampoo to keep shape.
All tips listed work best for human hair. Repeat these steps after one to two weeks of wear or as needed. For synthetic hair wigs, follow the brand's instructions for best results. These useful tips will buy you some time and help you make use of an investment.