A Black woman's hair is her crowning glory. Hair is considered to be an indicator of a woman's health and beauty. Alexis Stanley recently caught up with Bronze Magazine to discuss her hair breakage story, Uniqurl hair care products and future endeavors.
Please share your testimony about hair breakage.
This is the reason why I started Uniqurl. In 2016, I suffered a really bad experience with a stylist who colored and heat damaged my hair in the same session. It was cute for a day and then I realized the breakage was going to be really bad. I went to wash my hair and my curls did not come back. Not only was I left with straight hair in some parts, I was also left with a ton of breakage. I started buying products that were already on the market to help reduce the breakage and I realized that it was not working. I also realized that my hair care routine was becoming very lengthy trying to incorporate all of these new products so I decided to go ahead and start mixing products in my kitchen for my hair. One of the things that I wanted to do is create a product that promotes health, reduces breakage through moisture, but not to incorporate more layers and adding more time to the process. So the first product I formulated took 12 times to get it right, but the first part I formulated was the 4-in-1 styler. It basically does 4 things in 1 jar. It is a leave-in conditioner, moisturizes the hair, styles the hair and detangles the hair. Another thing that Black women with textured hair struggle with is the detangling of the hair without creating a whole lot of breakage and that product gets that done too.
How did you come up with the right ingredients for your hair products?
I did a huge amount of research in regards to really good ingredients for the hair. Basically all of the things I wanted the products to do, I backtracked and found ingredients that did those things. For instance, back when we first started I found that flaxseed gel and marshmallow root were very, very good with slippage which is another word for detangling. I found that almond oil was very good at sealing in moisture without causing dryness. I know that some oils coat the hair, but that means that no moisture can get in or get out. You end up in the long term having a whole lot of buildup on the hair. I found oils and ingredients that did all the things to promote healthy hair and to do the things that I wanted the product to do in the jar.
When did you decide to take the natural hair journey?
This is the part of the story that I never get to tell people. I am glad you asked this. Back when I was 18, I was a stupid college kid and I had relaxed hair, which I've had since I was 5-years-old. I am away at college and my hair just starts breaking like crazy. There is hair on my pillow, hair on my clothes and hair on the floor in the bathroom everywhere. I am away from my mom and my normal environment so I don't know what's going on. I got online and I started researching why relaxed hair only grows to shoulder length. I found this amazing community of women on the forum and this is before social media and Instagram. We communicated via forum by typing out answers and that sort of thing. I found that by protecting the ends you can grow your hair as long as you wanted it to. I was able to grow my relaxed hair from shoulder length to bra strap length in 6 months. Two years later it was waist length. I went natural in 2011 after I had my daughter in 2010. I wanted to show her that you don't need perm.
I grew up with a perm and I wanted her to grow up differently. I wanted to be that example that natural hair is beautiful so I went natural for her and I have been natural ever since.
Are you creating any other hair products at this time?
Right now we have eight products and I started out with the one product. We have shampoo, several conditioners, 4-in-1 styler, hair oil, leave-in spray and an elongating twisting cream. We are working on launching a few more products this year. One product that is slated to be released very soon is a mousse. We have some other ones coming up but I don't want to say too much.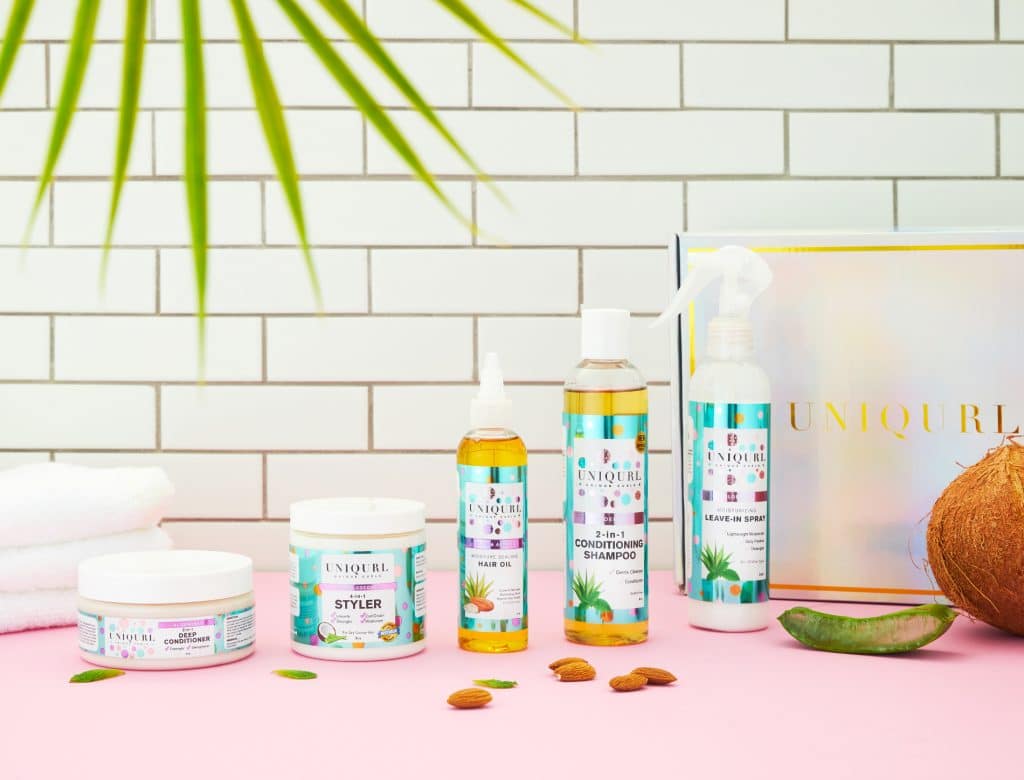 Can your products be used on relaxed hair and if so which ones?
One thing about relaxed, color treated, or heat damaged hair is that they all need protein for strength. One way the relaxer works on the hair is that it breaks down the protein bonds inside of the hair shaft and those protein bonds are the core of the strength of your hair. But that is the only way to get it straight is to break down the protein bonds. I would suggest our shampoo and conditioner. Our shampoo does not have protein in it, but it is still really good for relaxed hair. Our deep conditioner has enough protein in it where it won't make your hair hard. It is a great balance of moisture and protein.
What kind of advice would you give someone who wants to start a business?
Even to this day, I still feel like having a mentor would have helped me get through a lot of the hiccups of starting a business, but you can't expect to have a mentor. The thing that you have to do is research. You have to do a lot of research in your industry and make sure that you are choosing a business that you are passionate about. If you are not passionate about it, the first turn of any negativity or difficulty, you are going to be inclined to quit because it is not really something that you care that much about. Next, understand that difficulty is going to happen. It is part of entrepreneurship. Nothing is perfect. I look at business owners on Instagram and people don't understand that they are only showing you all of the good and not the bad. Understand that you have to continue pushing even through the negativity, being told no, the unexpected downturns and push back. Persistence is key. I know a lot of business owners who quit too soon and it is usually within a two-year time frame. But you never know when your blessing is coming, so just keep going.
What kind of feedback have you received from customers?
I love listening to customer reviews. In regard to the 4-in-1 styler, a lot of people rave about the detangling power of that product especially with their children, who have really kinky hair. We also hear that the deep conditioner has amazing slippage. Those are just a snippet of some of the reviews that we get online and in person.
Where are your hair products sold?
They are sold at Sally's Beauty Supply and multiple mom and pop beauty supply stores across the United States, mainly concentrated on the East Coast and Midwest.
What is your ultimate goal?
We started in 2018 and we hit a million in sales in 2020. My ultimate goal is for our products to be more national. Right now the Sally's Beauty Store selection is very small compared to the actual stores that they have on the ground. We are trying to expand in retail to make our products more accessible for customers. During the pandemic, everybody was buying online but then that created a backlog with UPS and the post office. A lot of people were frustrated by that which is why my goal this year is to expand our in-store availability.
Instagram  @Uniqurl
Instagram for Alexis  @LexiLuvsit