by Dr. Blessing Anytonwu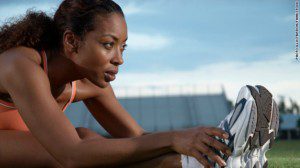 You lead a busy life. You have projects due at work, meetings to attend, children to pick up from school, healthy meals to prepare and the list goes on.  By the time you get home you are exhausted and stressed.  With all these commitments on your plate you don't always have time for exercise.  What if I told you that you could stay fit, look great and feel more energetic with just 10 minutes of exercise a day?
High Intensity Interval Training is a form of cardiovascular exercise that uses quick short bursts of anaerobic exercise with periods of rest.  An example would be sprinting as fast as you can for 1 minute, walking for 3 minutes and then sprinting again for another minute.  Here are 4 Things You Need To Know about HIIT.
Burn more calories
Short bursts of exercise speed up your metabolism and help you burn those extra calories

Convenient
You don't need fancy equipment or a gym to perform the following exercises: running, jump roping or biking (if you already have a bike)
Lose weight without losing muscle mass
HIIT allows you to burn fat and keep the muscles that you have developed
Efficient
You can fit these workouts into your busy schedule because the entire workout lasts from 4 – 30 minutes.
We all know that exercise can decrease your risk of heart disease, boost your immunity, and improve your quality of sleep, help you manage your weight, build muscle and manage stress.  HIIT is a great addition to any schedule  because it can be tailored to your needs and time constraints. You can mix it up and it will cost you next to nothing. So if you are looking for way to fit exercise into your busy schedule HIIT is a great option.