By Shawn Stuldivant, Editor in Chief
Although Christmas is right around the corner, there's still time to find that perfect gift to make that special someone say, "How'd you think of of that?" We've partnered with the following brands to introduce you to three custom finds that will make your gift-giving all that much special.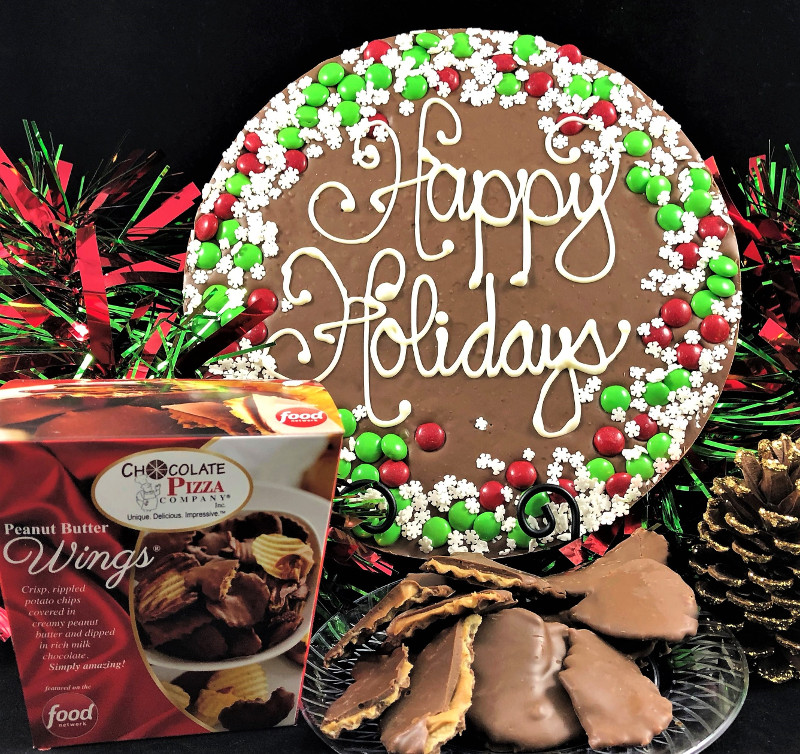 This sweet delight is for the chocolate lover in your life! I received their Snowflake Border Pizza and Peanut Butter Wings combo. Yes, you read it right! Their chocolate pizza is actually poured into a pizza pan and it arrived on my doorstep in a genuine pizza box. It's made with a gourmet milk and dark chocolate blend and topped with red/green chocolate M&Ms & sugar snowflakes. "Happy Holidays" was drizzled on top in white chocolate. No need to cut it, you can break pieces right off and enjoy. The chocolate has a rich but not too sweet taste and you will not want to stop at one piece. You can also use it as a nice centerpiece at your holiday party or gathering.
Now, about those Peanut Butter Wings….pure decadence! Made with a unique combination of potato chips covered in peanut butter and chocolate, I couldn't stop craving for the next bite. If you don't get a chance to place an order for Christmas, you'll definitely want to keep this company in mind for other special holidays or occasions.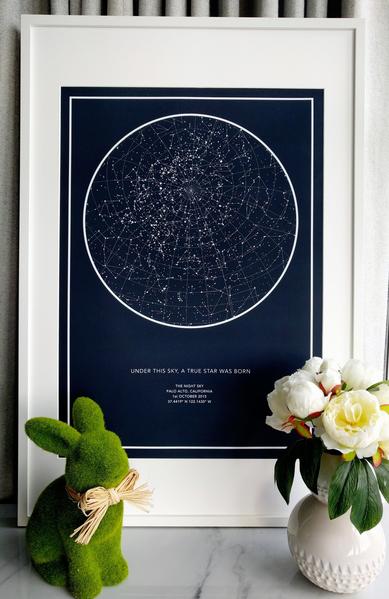 If there is someone in your life with whom you would like to commemorate a special night based on a memory, occasion, event, etc. then this is the way to do it. The Night Sky is an online service where you can create an 18″ x 24" unique and personalized star map printed on high-quality, Art Matte paper.
I had such an amazing experience with creating my own star map. Their star map editor is very user friendly and there are various color and theme options to choose from. What's really cool about it is once you plug in the location and date of your special occasion, the star map will show you exactly how the stars were aligned on that date and night. You can choose for your design to show any combination of stars, constellations and grids. There's even an option to show the moon! You can also add personalized text and select to have your design framed from a few attractive framing options. This service is seasonless and can be used to mark any special occasion.
AJ's Collection is a line of beautifully hand-finished, sterling silver necklaces and charms. Their Ever Growing Love charm bracelet can be personalized and makes a really nice gift for someone special in your life or even for yourself. I had fun personalizing my bracelet and I received it nicely packaged in a gift pouch within a gift box. I would definitely consider purchasing a gift from them for other occasions as well.