On Sunday, November 20th, ABC aired its 44th annual American Music Awards. The show highlighted some of the best music from the most popular artists of 2016.  This year featured some electric performances and hilarious takes, but as most events do, it also had some not-so-hot moments. If you haven't found time in between your turkey-prep or Netflix binging to watch this three-hour event, let me help you navigate the night's must see and questionable moments.
Must See Moments: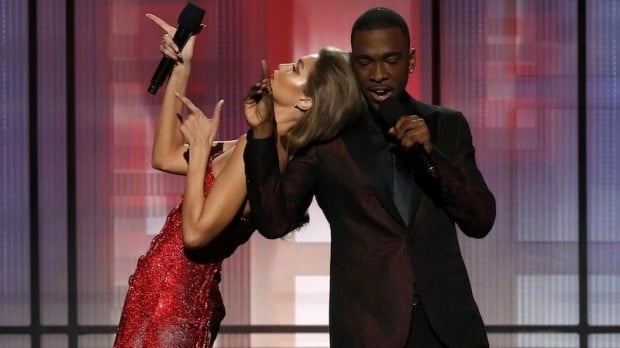 #1. Jay Pharoah and Gigi Hadid Host
This one might be hard to pinpoint while fast forwarding through your DVR, but SNL alum Jay Pharoah and model, Gigi Hadid totally killed their hosting gig on Sunday night. As a seasoned comedian, we know that Pharoah is used to improv and impeccable comedic timing. His experience helped pump up the crowd and keep the night moving. His presence also noticeably helped his co-host, model Gigi Hadid through the occasional slip of the tongue. Even though Hadid seemed nervous, she powered through, joking and ad-libbing all night. Pharoah and Hadid had a lot of funny moments, but their best had to be their impressions.
#2. Bruno Mars' Funky Opening Number
Ever the showman, Bruno Mars performed his recently popular hit, "24K Magic" to open up the AMAs. Armed with a groovy beat and his charismatic backup singers, Mars crooned his way through the number proving once again why he's one of the best performers of this musical age.
#3. Teyana Taylor is Beauty and Grace
Teyana Taylor, who recently charged up Hollywood with her starring role in Kanye West's Fade music video, presented T-Mobile's New Artist of the Year Award. While walking the stage, Taylor appeared to slip a few times but managed to regain her composure. She also forgot to bring her prescription contacts, which made reading the teleprompter a bit more difficult, but she laughed it off with her co-presenter (Washington Nationals player Bryce Harper) and powered through like a professional. Even more, Taylor rocked a gorgeous Steven Khalil gown, making her one of the best dressed Bronze Beauties of the night.
#4. Green Day uses Music to make a Political Stand
Green Day performed their newest single, "Bang Bang" for the AMA crowd on Sunday night. In the middle of the performance, they spoke against the recent developments in the U.S. political sphere. In this day and age, when media consistently asks citizens to give hatred a chance, Green Day takes a firm stand against it. Check out their inspiring performance below:
Questionable Moments:
#1. The World Premiere of Drake's Apple Music Commercial.
The AMAs literally stopped its schedule to spotlight Drake promoting Apple. Now that products and commercials can be blatantly shoehorned into TV events, I'm curious to see how other award shows top this. Maybe at next year's AMAs a gaggle of talented artists will serenade directly to a picture of the iPhone 8s.
#2. The Mannequin Challenge Sans Rae Sremmurd
At one point during the night, actors Matt Bomer and Heidi Klum participated in the Internet's most recent meme, The Mannequin Challenge. That's when participants freeze mid pose as Rae Sremmurd's hit song, "Black Beatles" plays in the background. This could have possibly been a perfect segue for the hip-hop duo to come out and perform what has arguably been the most popular song of the past couple of weeks. But unfortunately, they were not present. Another missed opportunity was having the originators of the Mannequin Challenge, a group of Floridian teens, take part in this segment, but unfortunately they also had no part in this moment.
All in all, the American Music Awards was a fun night full of good performances. If nothing else, you can entertain yourself with all the performances on YouTube.
By Lilian Uzokwe