By guest contributor David Moore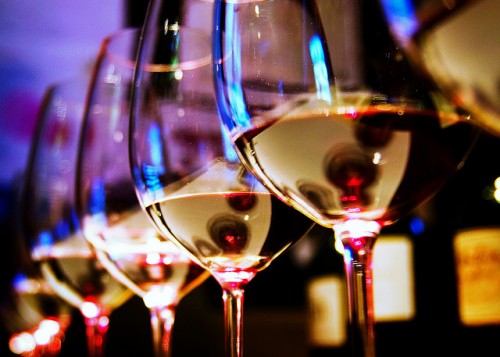 IMAGE CREDIT: Some rights reserved by longhorndave
Wine-tasting tours are all about discovering new wines, and finding something you especially like. They're a great way for wine aficionados to explore regional variations, and they're also a great way for someone who's new to wine to discover what she likes.
Whether you're planning your first wine-tasting tour or your fortieth, here are some things to keep in mind:
Choose a region you're interested in. Many wine regions have interesting scenery, and most wineries tend to be located nearby one another. There's no reason why you can't visit several wineries in a given day. If you're not from the local area, consider staying overnight and spending one day enjoying the countryside.
Know when to go. Find out whether the wineries you're interested in are closed for a given date, and ask whether you need to make reservations. Busy weekends, in particular, often require reservations.
Have a designated driver. The point of a wine tasting tour isn't to get drunk, but you may well wind up over the legal limit. Make sure you follow all state laws in that regard.
Keep the smells to a minimum. You'll want to take it easy on the smell-goods when you go on your wine-tasting tour. Avoid perfumes, colognes, and even other health and beauty products that contain fragrances. Smell is a major factor in how you perceive a wine, so you want your nose to be fully open to what it can perceive.
Dress in layers. Even if it's 95 degrees outside, the winery needs to maintain a nice cool temperature inside. That keeps the wine from spoiling, but it might also make you a bit chilly. Dress in layers so you can adjust your own temperature as necessary.
Wear fabrics that can handle a wine stain. Choose dark colors or particular fabrics that can handle it if you happen to spill a little bit of red wine on them.
Choose comfortable shoes. You're going to be standing quite a bit; wear shoes that are comfortable. You'll also want to avoid wearing heels if you're planning on a tour of the vineyard.
Feel free to spit or dump the wine if you don't like it. The winery staff aren't going to criticize you if you don't like a particular wine. You're also welcome to refuse a particular type of wine (although your best bet is to try them all; wine types can taste very different from one winery to the next).
Ask questions. Generally speaking, winemakers take great pride in their wine, and will enjoy the opportunity to talk about it. No question is too simple, and you might be wondering the same thing as other guests who just aren't willing to ask the question.
Keep a clean palate. Stay away from gum or mints during a wine tour. Those things are going to dramatically affect the taste of the wine, and usually in a negative way.
Stay hydrated. Make sure you're drinking plenty of water between tasting different wines. Not only will it help you to avoid getting a hangover, it will help keep your palate clean in between tastes.
Watch out for intoxication. Eat along the way. Don't go for a full afternoon of wine tasting and then be shocked that you're intoxicated. You may still have several wines to taste on the tour! By eating at least small amounts of food along the way, you'll stave off intoxication.
Take good notes. Whether that means a small notepad or whether it means typing some notes into your smartphone, you need to keep a reference of your experience with a given wine. Know how it tasted, and it will help you decide whether you want to pick that wine up at the wine store down the road.
Don't taste between wineries. Generally speaking, you aren't allowed to consume wine in your car (or anywhere else outside of the winery). It's a good way to get pulled over and wind up in the lockup. Not only that, like restaurants wineries are required to refuse to serve intoxicated individuals.
Take some home. Part of the point in a wine-tasting tour is to identify selections you enjoy. Make sure to get a bottle or two of your favorites to enjoy later.
With just a little bit of planning and these practical tips, your wine-tasting tour can be something to remember for years to come.
Author bio
David Moore is the Social Media Coordinator at The International Wine of the Month Club, an online mail order wine club established in 1994 and fit for anyone from wine enthusiasts to those just looking for great wedding gift ideas.