by Tanya Smith
This past week, my family and I traveled to beautiful Sandy Bay, Jamaica for a vacation.  Leading up to the trip, I was totally in frantic mode – you know, where you are trying to get last minute things done, tripping over yourself to accommodate other people's requests, lamenting overzealous commitments you've made.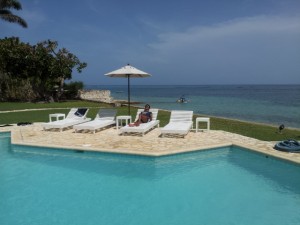 I actually left thinking there was no way I would relax and enjoy it because I knew I'd missed a few items on my task list…only got 30 of the 99 must-do items done. Sound familiar to you at all?  Maybe it's just me.
Anyhoo, once we made it to the villa it was almost like an immediate sense of "aaaahhhhhhh".  It didn't take me long at all to realize that the world did not need my groaning and hurried to-do's at all.  What made it even better was I was actually restricted from using much of the technologies I usually carry, unless I chose to pay astronomical fees (and that was out since I wanted to reserve my cash for the fun stuff).
Leaving Jamaica the last day was the hardest thing I did the entire time.  But at the end of our week long visit, I vowed to apply 10 lessons I learned there.  Now, these are my personal lessons.  If you find a takeaway or two you can use, that would make me smile.
#1 – Life is waaaayy less complicated than we make it out to be.
This trip was the very first time I have EVER gone on a vacation without planning out every detail.  In fact, I had no clue what we were going to do when we landed.  Instead of being a fiasco, every day flowed smoothly.  No bumpy, awkward moments.  No drama – right, even traveling with 4 other families.  We all got along and so did the kids for an entire week.  Just because we let go and didn't try to control every waking moment.  I always thought if I didn't map out every little thing, it would all fall apart. What a pleasant surprise.
#2 – There is nothing better than reserving each morning to clear your mind and reflect on life in solitude.
I have to admit…I usually wake up in the morning, log into the computer and start working right away.  When I get to my office, the work continues.  But there, I got up and watched the sun rise, leisurely read a book and let my mind rest.  I've never been clearer or more energized. I'm going to try this at home and I bet I will get the same results.  With so much hustle, there is rarely a time we can reflect and sit quietly.  But finding that quiet peace for meditation is like finding gold.
#3 – We have a lot to be grateful for.
We had a great opportunity to see many small villages on our two hour ride to the YS Falls.  Many of them would be perceived as un-liveable by American standards (and probably others as well), but the residents went about their day taking care of their family, selling wares, and living life. At the market, some of the salesmen/women were quite aggressive.  When I started to push back at first, my friend asked me "have you ever wondered if you have a meal coming tomorrow? they do". I realized then that we do what we do to have the essentials of food, clothing, shelter – everything else is a plus. My kids picked up on it too and when we returned home, the eldest said, "Mom, we have too much stuff".  We cleaned out 3 closets our first day back and sent bags of lightly used clothing to my nephew's refugee project.
#4 – Beauty is in every natural thing if we take time to notice.
The country of Jamaica is full of natural beauty, but it's not just there.  It's everywhere.  I found myself taking notice of my surroundings at home in Texas and realized I don't do it often enough.  Just looking up into the sky at night gave me a real sense of how much God has blessed us with in creating the earth.  I got a real kick out of looking for crabs and sea life on the beach, flowers, fruit, anything I could find.  I found plenty of inspiration.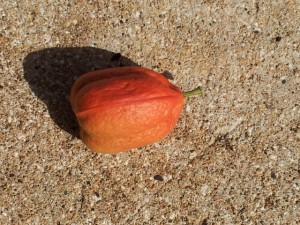 #5 – Money isn't everything.
As I mentioned, the basics – food, shelter, and clothing – will take you further than you think.  Sure, we were on vacation and that certainly required money.  But the most fun we had was when we enjoyed the simplest things while there…like jumping into the ocean, finding a starfish, watching a crab walk across the living room floor (okay, that was a bit scary at first and then I shooed it out – LOL).
#6 – Technology is overrated.
I will admit.  I nearly had a heart attack when I realized I couldn't text or call without paying a ridiculous amount of money on my phone.  But it didn't take me too long to realize that disconnecting was a gift.  No one pulling away attention from the things I wanted to focus on. I actually could listen to my kids without a distracting text. We ate breakfast and dinner as a family at a table…together? That's rarely heard of anymore.  My husband actually said last night we should do that more…and we will. The world didn't fall apart because I didn't post on all my "50-leven-hundred" (like my baby says) social networks 5 times a day.  I posted when I really wanted to.  Now don't get me wrong on this one – I see the value in technology, probably more than some, but I now recognize there is tremendous beauty in knowing when to be connected & giving yourself permission to disconnect when you need a break.
#7 – Nobody really cares that you're busy but you.
Nope, the world didn't fall apart.  No one lost money. I had calls and emails when I returned, but they were fully informed that I was unavailable and would respond when I got back.  Anyone I replied to said, "oh great, I hope you enjoyed your time away".  People get it – we all need a break.  So don't feel guilty when you set aside some quality time for YOU and for your loved ones.
#8 – Stress is brought on by believing the opposite of #7.
Uhhh, let me say this again – don't feel guilty because you took some time away from your phone, your computer, your twitter, your Facebook, and so on.  If you really have to stay "on" the entire time, choose an automatic system like Hootsuite (which is what I use) to continue to post.  Certainly you don't want to let people down who are enjoying your daily quote, or whatever you're sending, BUT you are human not a robot.  I've decided to do what I can and to make the most of my resources and tools without worrying about that post that missed a deadline.
#9 – Relax. It's all going to be alright.
I think I covered it, but I'm making this a personal mantra now to capture lessons 1-8.  Maybe it should be a bumper sticker or on a cup like this one.
#10 – Say yes to life and opportunity.
When I opened up and just said yes (Jamaican natives say "yeah, 'mon" after every phrase), things just flowed.  I had the best time of my life and I know if I want it to continue, saying yes will open up many more doors. It's exciting to see what will happen next.
About Tanya Smith
Tanya Smith is a creative business strategist and coach specializing in showing service based solo entrepreneurs how to simplify, save time & stand out with simple strategies that engage more quality leads and clients. Her company Be Promotable provides fresh actionable strategies and virtual resources to promote business owners as power players in their market. For instant access to your free 7 secrets to online time management report, visit us at: www.tanyasmithonline.com.