When we don't know about our true identity in Christ, we allow the natural world outside of us to tell us how we should look and act and what we should be doing with our time on earth.  If I don't find out the truth about who I am, I could actually go through my whole life not knowing my true powers and abilities because I have an enemy (even myself) that doesn't want me to know who I am and will devour me with deception and lies.  Sometimes a person can be so spiritually blind that they don't want to know who they are. They just don't seem to care. They feel angry and powerless. They have no faith in the supernatural (the signs and wonders of God). They let their feelings control them and often get into trouble, disappointments and disagreements in their relationships.
You are in rebellion when you go against God and His vision for your life. If you go against spiritual order and authority, just like Satan, the fallen angel, God cannot use you as a superhero (Ambassador) for His kingdom on earth. This is why it is important to have faith.  Faith is belief in Jesus as your Savior and as the Son of God.  Faith is trust that the word of God is truth and serves as the true guide for living this life. Faith is being lead by the Holy Spirit of God in all your understanding and decisions.  Faith is confidence and assurance that the blood of Jesus on the cross redeemed you, cleaned you from past unrighteousness, delivered you from death and curses and made you victorious.
"As His divine power has given to us all things that pertain to life and godliness, through the knowledge of Him, who called us by glory and virtue, by which have been given to us exceedingly great and precious promises, that through these you may be partakers of the divine nature, having escaped the corruption that is in the world through lust." 2 Peter 1:3-4
When you accept Jesus as your Savior and ask Him to come into your life, you are "born again" into your true spiritual identity in Christ.  You have reclaimed your true identity.
Now you have an opportunity for unlimited potential to develop the righteous character of Christ, to cultivate love and to manifest in your gift/s.
"There are diversities of gifts, but the same Spirit."  The manifestation of the Spirit is given to each for the profit of all." (1 Cor. 12:4, 7)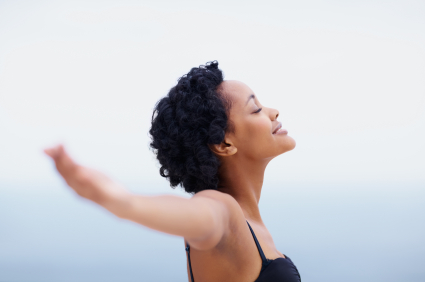 The journey begins by renewing the mind, casting off the things of the old man and putting on the new man. Being "born again" as a man that walks according to the will of God and not the will of his flesh, (not doing things my way like a child turned against his father), selfishly wanting to satisfy his needs like the "old man."  This is why your enemy can be yourself. Instead, when you walk with God in His spirit, you are showing a love for yourself and for others. When your spirit is not right, you will always have issues and stress rather than the calm in the storms of life. When you line up with the word of God, you have signed up for a good life and you will want that for others also. It is God's will for you to have a good and peaceful life filled with joy. Turn your mind toward heavenly things "and rejoice in the Lord always."(Phil. 4:4)  Stir up your gifts! "Every good and perfect gift comes from above." (James 1:17) It is God's will that with your gifts,
"all things be done for edification," so that you are a blessing to others. (1 Cor. 14:26)
Renewing the mind is to no longer be conformed to this world. (see Romans 12:2)
When you are conformed, you are not in control of your mind.  You are being controlled by something or someone else other than your knowledge of the word of God.  When you are conformed you become a copy and acting in the ways of who you are not.  You are not accepting your original uniqueness and creative ability.  You are not operating in your gifts and powers in the grace of God. "Each one has his own gifts from God, one in this manner or another in that." (1Cor. 7:7)
To renew your mind and live in your true identity, you may have to make a lot of changes and preparation.  Changes in terms of where you go, activities you choose, people you honor in your life, and choosing not to be controlled by the opinions of those that may influence you against God, but you continue to pray that they too will find God. You will  learn how to assist them and how to resist the temptations that serve to keep you away from Godly relationships. You are an over-comer of  temptation through the blood of the lamb. Lining up your thoughts with the thoughts of God will keep you from falling and keep you in the peace of God.
"For I know the thoughts that I think toward you, says the Lord, thoughts of peace and not of evil, to give you a future and a hope." Jeremiah 28:11
A relationship with God gives you the confidence and the security you have always wanted. It gives you the ability to do supernatural things, things that you cannot do on your own, that can only be done with the help of God and His Holy Spirit (Christ in you) who will guide you to all truth, understanding and victory over evil.  When you have the love of God, you want to respect and love others as you love yourself.
No one wants to have a feeling of powerlessness. God is all sufficient and when your mind is connected to His, you are always enough. You don't need to be like someone else.  You are connected to His living water. (see John 7:37-38) You are no longer a dead man walking (the old man). You change from potential energy (energy at rest) moving to actualization, the manifested one.  Find yourself in Christ, not looking around trying to find yourself in the old (flesh) man.  Realize the supernatural in you and wear it without shame and without fear of being unaccepted. And, "above all things put on love."
(1 Col.3:14)
 "Being confident of this very thing, that He who has begun a good work in you will complete it."  Phil.1:6
By Osundara Mayuri – Author, The Book Of Mayuri: Why We Can't Have Peace and How We Can Have Peace -Westbow Press, 2010
Copyright c  Sept., 2011. All rights reserved. Unless otherwise indicated. Scripture taken from the New King James Version. Copyright 1982 by Thomas Nelson, Inc. Used by permission.  All rights reserved.        Contact:  veranolarue@earthlink.net